Wartime lovers shown letters lost for 67 years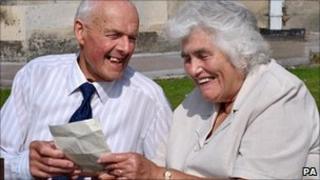 Love letters, evidence of a secret wartime romance, have been reunited with the couple who wrote them.
Eric and Winnie Pashley, now 82 and 81, met at Thoresby Hall in Nottinghamshire in 1943 when he was a gardener and she worked as a parlour maid.
Banned by social convention from meeting, the pair exchanged letters which were then hidden in a shed.
Rediscovered by current staff, the couple, who married in 1949 said they brought back wonderful memories.
Mr Pashley said: "As a gardener I wasn't allowed to enter the house as it wasn't my position.
"So if anyone was coming out of the house, they would bring a note from Winnie for me."
Lasting love
He added: "I used to climb on to the roof of Thoresby Hall, about 60ft high, and lower my messages back on a piece of string to her window on the third floor.
"If she was in, she would take them. If not I would have to try at another time."
The notes were hidden in a mustard tin and are still readable, more than 60 years on.
Signed with rows of large kisses, they feature acronyms such as SWALK (Sealed With A Loving Kiss), HOLLAND (Hope Our Love Lasts Long And Never Dies), and BOLTOP (Better on the lips than on paper).
In one letter Winnie, then Miss Pettinger, wrote: "My Darling Eric, I hope you are well.
"I shall be home on Tuesday 31st I think. Did you get that letter I sent to you? I have been dying for an answer but you have not written. I simply just had to write because I'm just crazy over you."
The couple, who live in Lincolnshire, now have four daughters and a son, 11 grandchildren and five great-grandsons.