Scheme in Mansfield tests energy house costs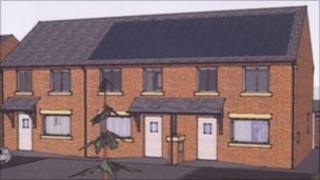 Three experimental homes are to be built in Nottinghamshire to see if energy saving technology can pay.
The £334,000 Nottingham Community Housing Association project in Mansfield Woodhouse will include solar cells, insulation and heat recovery.
One property is designed to be carbon neutral, with the others each rated a stage lower for efficiency.
Mansfield District Council, which donated the land, said this would help compare building costs with savings.
Despite looking like standard houses, they will use a variety of other energy saving ideas, including ventilation systems and rainwater harvesting.
Living costs
Speaking as building work began at Blake Street, Cllr Heather Henshaw, Mansfield District Council's housing chief, said, "I am thrilled that the council has been able to support such an innovative new housing project in Mansfield. This puts us at the forefront of environmentally sustainable house-building.
"As well as being beneficial to the environment, the scheme should also lead to major reductions in the cost of living for the tenants there."
If the highest efficiency house is carbon neutral, builders say it will be the first such property in the area.
This house will cost about £133,000 to build, with the other two budgeted at £105,000 and £96,000.