Mansfield council to consider underground heating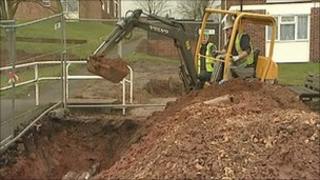 More than £800,000 could be spent testing a new heating system for homes in the Mansfield area of Nottinghamshire.
The new underground heat pumps would replace the current gas boilers.
Last winter hundreds of tenants in Sandy Lane Estate in Mansfield were left without heat during a prolonged cold spell in February.
Mansfield District councillors will discuss whether to pilot a replacement for the boiler system on Thursday.
Large pumps draw heat from deep down in the earth and send it to the surface.
The 2,000 properties to be served by the new system are located in Mansfield, Mansfield Woodhouse and Warsop.
The problem in Sandy Lane was caused by leaking pipes, which took weeks to put right.
The council already uses underground heat pumps to heat its new Rebecca Adlington Pool.