Family escapes wheelie bin fire in Nottinghamshire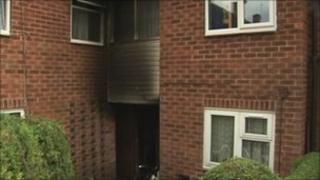 A family of five had a lucky escape after a wheelie bin was set on fire and pushed up against the door to their Nottinghamshire flat.
Mother-of-three Lisa Cliff described how she and her family had to climb out of windows to escape from the fire on Thorold Close, Clifton, on Saturday.
Three people escaped from a fire which spread from a bin outside a house on Sedgwick Street, Jacksdale, on Sunday.
Both fires are thought to have been started deliberately, police said.
Fire risk
"All we know is that we heard the neighbours shouting and looked out of the window and saw a load of smoke," said Ms Cliff.
"We had to climb out of the window and then had to get the kids out, the neighbours caught them."
Nottinghamshire Fire and Rescue is currently running a campaign warning people about the risk posed to their homes if wheelie bins are set alight.
Following a previous wheelie bin fire, watch manager Stuart Ruckledge, from Stockhill station, said: "People need to keep wheelie bins away from the house and secured within a locked gate and remain vigilant."