Asylum seeker Nottingham fall death prompts probe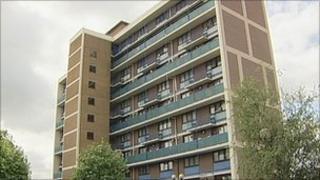 The death of a man, who fell from a Nottingham tower block after being denied permission to stay in the UK, is being investigated by police.
Osman Rasul Mohammed, 27, an Iraqi Kurd, had been in Britain for almost 10 years and had two children here.
Officers said they had tried to talk to Mr Mohammed before he died at Clifford Court in Radford on 25 July.
Nottinghamshire Police and the UK Border Agency said they were working closely together on the case.
Mr Mohammed had originally applied for political asylum but that failed because he could not prove he had a legal right to stay.
'Very desperate'
His second attempt to stay was based on his children, who have British citizenship, but this also failed.
Friends said that in the weeks before his death he had tried to discuss his case with immigration officials.
Mr Mohammed had been getting legal help from Nottingham-based Refugee and Migrant Justice but the charity shut down last month.
He had been sleeping on friends' floors for some time and receiving charity food parcels.
Bahman Mohammed, from the Nottingham Refugee Forum, said they had known the dead man well.
"He was a good guy, a nice guy, he was very quiet and he didn't have a problem with any member of staff or member of the community.
"He was very desperate because he told us he was sleeping in the park but they kicked him out of the park.
"He came to us and we would see him crying."
The UK Border Agency said it extended its deepest sympathy to Mr Mohammed's family and friends but would not comment further at this time.