Wellingborough: Dylan Holliday was "utterly chilled"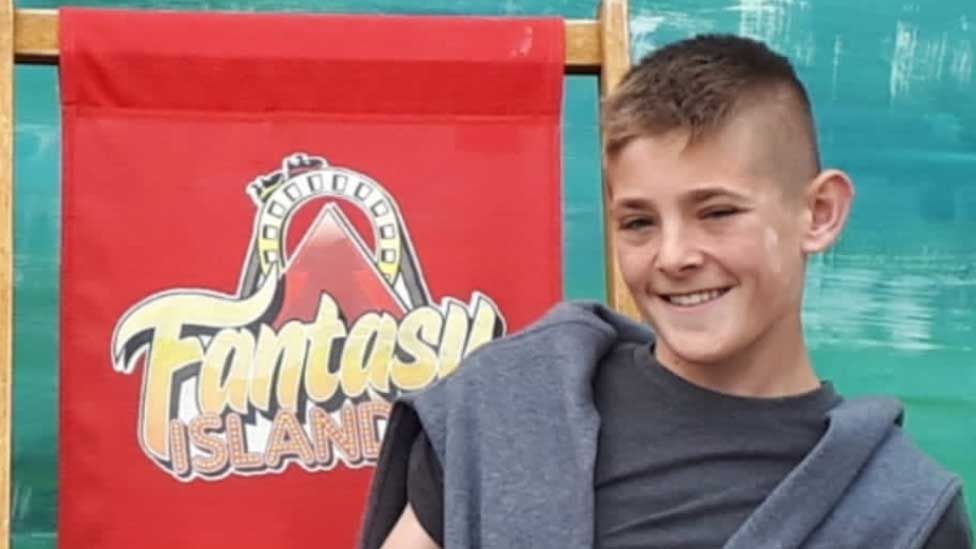 A teenager was unarmed, had his arm in a sling and was "utterly chilled on cannabis" when his attackers approached, a jury has heard.
Dylan Holliday, 16, died after being stabbed 13 times in Wellingborough in Northamptonshire on 5 August.
CCTV from a nearby shop showed him "having difficulty getting on and off his bike", Coventry Crown Court heard.
Two 17-year-old boys deny murder and the attempted murder of another teenager.
Prosecutor Peter Joyce QC said Dylan had been "chilling and smoking weed" with friends in an underpass.
"There was not a knife among them, not a weapon with them," Mr Joyce added.
Coventry Crown Court heard the first defendant was carrying a knife and social workers had dropped him off in Wellingborough.
Mr Joyce rejected the defendant's claim that he had a knife because of an imminent threat.
"Imminent threat? Imminent threat my eye - he carried a knife because he'd carried a knife since he was 12," he told the jury.
The other defendant was his "good friend" and "knew well that he carried knives on a regular basis", Mr Joyce said.
The jury heard that both boys put balaclavas over their heads as they approached Dylan and his friend at the Park Farm underpass.
Mr Joyce said: "The first defendant tells you, 'I thought I was about to be attacked'.
"From a boy in plaster? So I had to stab him 13 times? Rubbish - worse than rubbish."
The court was told "this is nothing to do with self-defence… to bring knives against Dylan; chilled, unarmed".
The 16-year-old was pronounced dead at Northampton Hospital, the court heard.
Lawyers for the defendants will give their closing speeches on Monday.