Ukrainian circus stars relieved to reach safety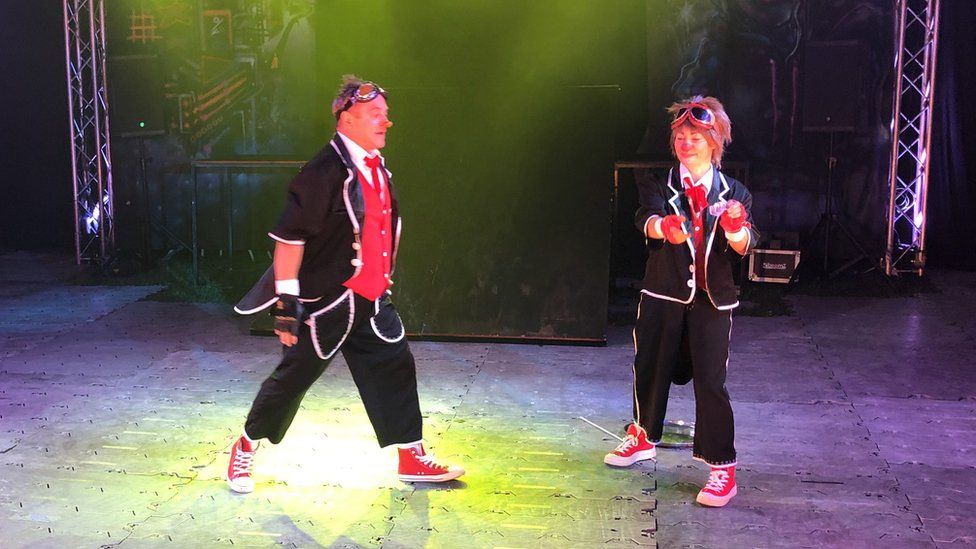 Ukrainian circus performers who escaped their war-torn country said they were relieved to reach the safety of their "second-family" in a British circus.
Under the Homes for Ukrainians scheme, Circus Cortex gave refuge to 16 people who had spent three months hiding from Russian forces.
They will tour Northampton, Norfolk, Suffolk and Essex over the summer.
Circus dancer Tetiana Lotiuk, 23, was caught in Kharkiv when war broke out and said it was good to have a focus.
Separated from friends and family, she travelled for days going without sleep and food to reach the safety of Circus Cortex.
"Every day was worse and worse. Every night was worse and worse, and every day I was more exhausted," she said.
"You're scared so much and you don't know what to do.
"I was scared to sleep at night because I was afraid that I would not hear any sirens or explosions and just not wake up the next morning."
Unicyclist Viktor Gorodetskyy was given special leave to flee Ukraine with his wife and son, who also perform in the circus.
"It was very dangerous, all the time is coming rockets," he said.
He said the circus had "become his second family" and he was pleased to be able to entertain the British public.
"My child is going to school, my wife works with me, we're all together here working," he said.
Circus co-founder Irina Archer, whose parents are Russian and Ukrainian, said she made it her mission to get as many acts and their families over to the UK as she could.
Ms Archer said it was important "to keep everything as normal as possible for all of them".
She said: "This is what they love doing and the more they're not thinking about the bad things, it's better for their mental health.
"The positive emotions they get from being on stage is helping them through difficult times."
Ms Lotiuk agreed. "It's quite hard to go on stage and to have a big happy smile and entertain people, because my mind is on those in Ukraine, and so is my heart.
"But it's important to show our talent and strength in difficult times," she said.
Related Internet Links
The BBC is not responsible for the content of external sites.