British Grand Prix: Silverstone fans prepare for a big weekend
By Jonathan Park & Pete Cooper
BBC News, East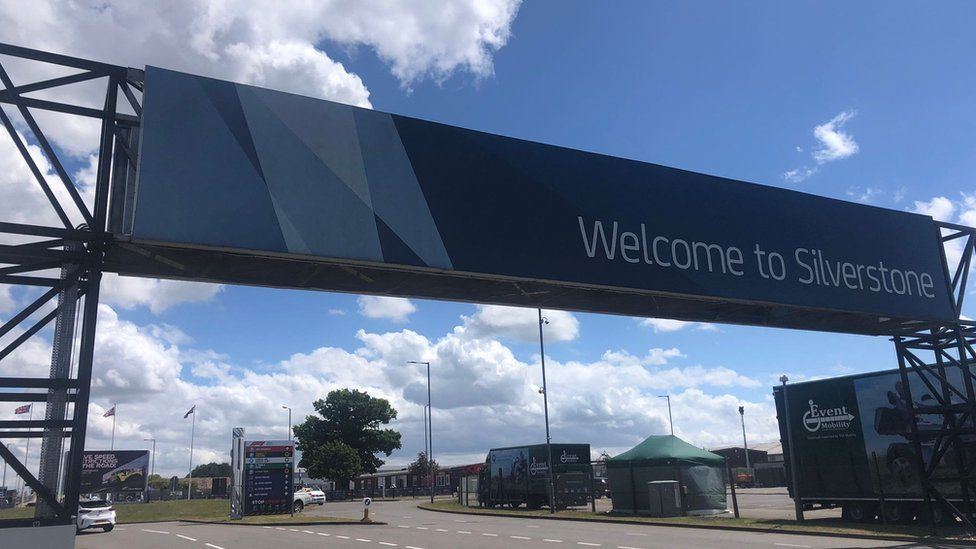 About 400,000 people are heading to the Silverstone Circuit for the British Grand Prix.
For the circuit, Formula 1 fans and surrounding businesses in a small corner of Northamptonshire, it is the most important week of the year.
Organisers say there has been unprecedented demand this year.
Sir Lewis Hamilton might be out of the running for the championship this time, but that does not appear to have dampened the mood at Silverstone.
'Silverstone produces fantastic races'
Stuart Pringle, the circuit's managing director, says because people buy their tickets early they have not been affected by the cost of living.
"The fans really wanted to get out after Covid, we were sold out on race day by January and Saturday [qualifying] by April," he says.
But he adds rising inflation and the squeeze on people's incomes "remains a concern for next year".
He says: "People really value this incredible weekend, it's a chance to get together with family and friends.
"The on-track entertainment at Silverstone is always second to none, this funny old World War Two airfield actually produces fantastic races."
Mr Pringle says the weekend has "that festival feel", but says it requires a lot of hard work and "takes 10,000 people to deliver this to Silverstone".
Demi and Joe Belt arrived on Wednesday from Bradford for the British Grand Prix.
He says he has "got to be here nice and early, chilled out, and ready for the weekend".
They will be cheering the British drivers, Hamilton, his teammate at Brackley-based Mercedes George Russell, and McLaren's Lando Norris, adding there will "definitely" be a home win.
"We've been coming for the last five years, I absolutely love it, I won't miss it for anything," he says.
Ms Belt says she is "very excited" for the weekend, especially as she is a mechanic working in motorsport.
"Trying to see how each car is set up for each driver is amazing, it's nice to see how this is done and how much work goes into each car," she says.
Darcy and Lauren, both from Surrey, have come with their friend Abigail, from Derbyshire, to their first Grand Prix.
"My dad watched [Formula 1] when he was younger and my brother recommended Drive to Survive - we were on holiday and I forced them to watch it," Abigail says.
Darcy adds: "We only started watching Formula 1 last summer."
She says the campsite "seems like a really nice atmosphere but we're hoping to be at the track all day every day".
Lauren say they would like McClaren, which is based in Surrey, to get a pole position in qualifying.
"That's my main hope for this weekend," she says.
'We get the beer in early'
Sally Cann, from the convenience store in Silverstone village, says the "feeling's good" about the British Grand Prix.
"Everyone's excited and hopefully it'll be record crowds this year," she says.
She says the shop's takings will be "up this weekend" and they have been gradually stocking up for the rush, but they always "get the beer in early".
But the store has begun to see the impact of the rising cost of living.
"These increases are coming in [on] every product we see, I don't think [customers] are doing that top-up shop like they used to - they are making things last," she says.
Related Internet Links
The BBC is not responsible for the content of external sites.