Dylan Holliday death: The armed killer not spotted by social workers
By Phil Shepka & Jon Ironmonger
BBC News, East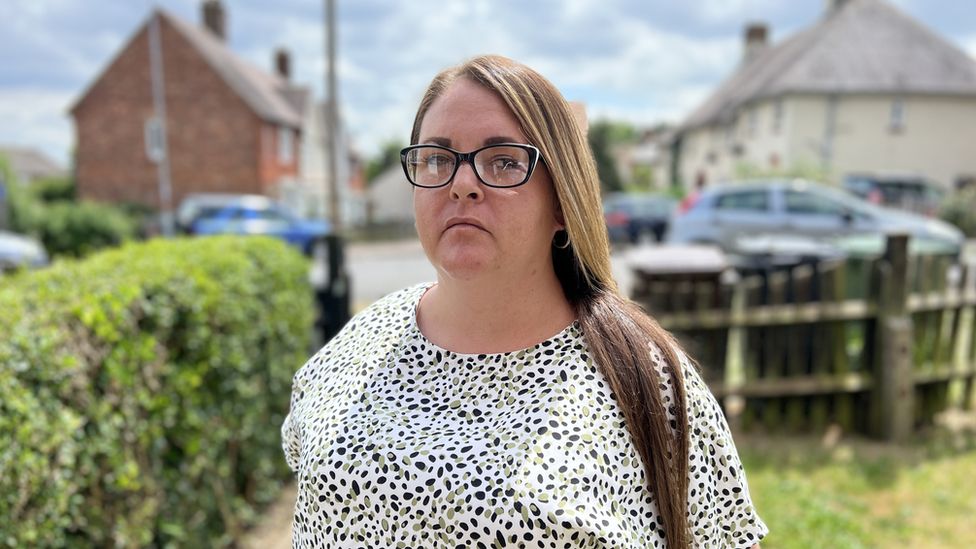 Social workers unwittingly drove a boy armed with a knife to the Northamptonshire town of Wellingborough. Later that day the boy used that knife to kill 16-year-old Dylan Holliday. What more should have been done to prevent the fatal stabbing?
Davinia Walsh's home is now quiet. Too quiet, she says.
The last time she saw her son alive was on 5 August last year when Dylan and a friend popped out to get a kebab on on the Queensway estate.
Speaking to the media for the first time, Ms Walsh tells how her boy was the "clown of the class" and was looking forward to getting a motorbike licence.
"[He was] very loyal, very genuine, very down to earth, what you saw was what you got," she said. "The house was never quiet - since [his death] it's too quiet."
About 40 minutes after he left their home her phone was besieged with calls about her son.
Those calling were screaming and terrified urging her to "get up here quick".
"So literally in my pyjamas, I flew in the car up there," she said, " I saw a few people I knew screaming and crying.
"The police wouldn't let me go through, so then I knew it was serious."
"I can't explain it... I knew he'd gone.
"I just sensed, I had this aura, and I just kept saying to my partner 'he's gone, he's dead' - but I [didn't] even know what had happened."
Stabbed 13 times, Dylan was pronounced dead at hospital. His friend was also stabbed, but survived.
"I didn't sleep for the first 72 hours because I was scared to sleep," said Ms Walsh.
"Because it's a reality if you go to sleep you're reliving it every time you wake up."
Two 17-year-olds were subsequently charged over Dylan's killing but the first two trials were abandoned because of Covid-19.
After a third attempt, at Coventry Crown Court, both boys were cleared of murder, but one - the defendant who jurors heard stabbed Dylan - was found guilty of manslaughter.
Both teens were found guilty of causing grievous bodily harm to Dylan's friend. They will be sentenced on 7 September.
To this day, Ms Walsh does not know why her son was killed.
"I think the only person that does know the answer is who did it," she said. "I think it was just the wrong time, wrong place, wrong person."
Det Supt Joe Banfield, who led the investigation, said there was no evidence it was part of a gang "turf war".
"My belief, looking at all the facts of this case, is that this is a robbery that's gone tragically wrong," he said.
At the time of the attack the boy who stabbed Dylan, who cannot be named for legal reasons, was under the care of Northamptonshire Children's Trust out of the county on a tag.
The killer told the court how, from the age of 11 or 12 years old, he was skipping school and hanging out with older people who bought him clothes and food.
In return he would hold Class A drugs and weapons for them. Asked why, he said: "Because I thought they cared about me."
The jury was told how the killer himself had been the victim of a knife attack while walking to a friend's house in 2016.
A report by social services the following year said the boy was "associated with gangs, carrying weapons, smoking drugs and skipping school".
The defendant was later sent to Jamaica to be cared for by his father. He claimed his father beat him and, one occasion, attacked him with a machete which left him with a scar that he said resembled "a burn mark at the top of his arm".
In January 2021, having returned to the UK, he was shot at.
The court was told how, despite being under 24-hour care, the teenager went out and bought the knife which came in a sheath.
Jurors heard that on 5 August 2021 the boy had been scheduled for a child and adolescent mental health service (CAMHS) assessment.
Instead, the court heard, he was taken to visit a relative in Wellingborough.
Hidden from the social workers who drove him to the town was a knife concealed beneath the right leg of his jogging bottoms.
He later claimed the knife was purely for protection.
After the attack Dylan rang 999. He was on the phone for 18 minutes before police arrived.
Ms Walsh tried to call Dylan four times but could not get through.
She later learned that as "he was taking his last breath he was literally on the phone trying to get help because he knew how serious the situation was".
"It haunts me because he died on his own, and he knew he was dying," she said.
"He literally bled out and there was nothing he could do... he must have been terrified."
Dylan's killing is subject to a forthcoming child safeguarding practice review, which Det Supt Banfield said he was unable to comment on.
But he said the force wanted to learn from such incidents and also "make sure that we get prevention and intervention at the heart of everything we do".
"The absolute tragedy is that Dylan has lost his life, but it's a stark reminder of the danger of knives when you are hearing about 12-year-old boys in our community that think it's OK to carry knives.
"It isn't OK and it isn't needed."
A spokesperson for the children's trust responsible for the killer said: "NCT is fully engaged in the [review] examining the involvement of the different agencies in this case.
"That report is still being produced and, as such, we are unable to comment further at this time."
Ms Walsh said the boy who stabbed Dylan "shouldn't have been on the streets".
"He was under [the care of] social workers," she said. "He never hid that he carried knives because he carried knives for protection.
"The police were aware. It shouldn't have gone as far as it did, my son could still be here.
"I think the system has got a lot to answer for."
Related Internet Links
The BBC is not responsible for the content of external sites.