Northampton General: New critical care unit prepares for first patients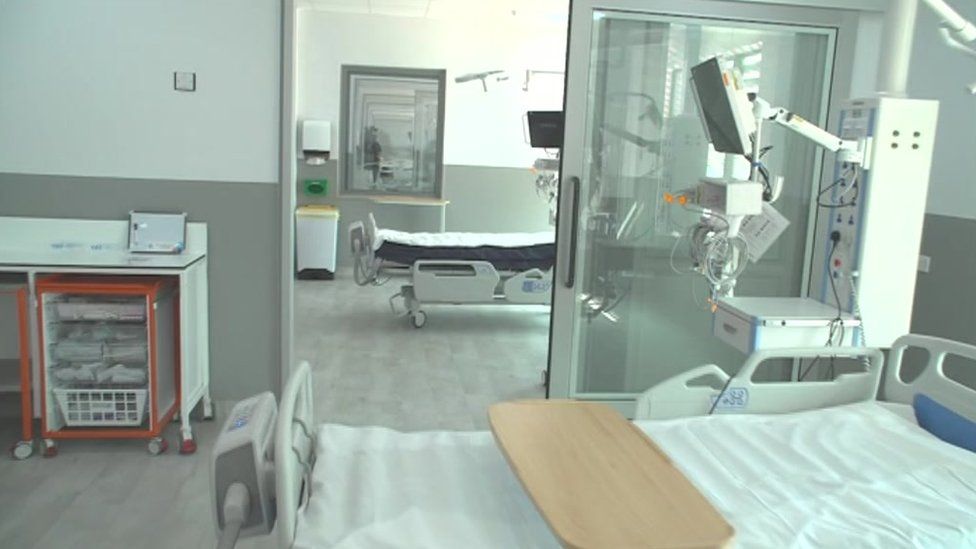 A new critical care unit, designed with the experience of the Covid pandemic, is preparing for its first referrals.
The 16-bed unit at Northampton General Hospital cost £15.9m and will offer round-the-clock care for the most vulnerable patients.
It includes special isolation rooms as well as space for relatives to stay and sleep close to loved ones.
Care lead Sarah Masterson said: "The old unit is 50 years plus old. We've outgrown it".
The new department will be a dedicated critical care ward, replacing the current intensive care and high dependency units.
Ms Masterson, the lead operating department practitioner, said staff were included in every step of the design process.
"We ended up cutting up little bits of paper and, like a bit of jigsaw puzzle, tried to make everything fit in a way that would work for us clinically," she said.
She said the old unit was "small and dark", the "complete polar opposite" to the new unit.
Although planning for the unit started before the pandemic, the experience of Covid-19 influenced it design, the hospital's chief executive Simon Weldon said.
Patients will be cared for in individual spaces that can sealed to prevent infection spreading, and the unit also has five specialist isolation rooms.
Mr Weldon said: "A modern hospital needs to be designed so staff and patients can have the experience they need."
About £10,000 towards the relatives' room was raised by Helen Vickers, whose husband Mark was treated in the hospital's intensive care unit in 2019 before his death.
She said the previous unit had "no space for relatives and was difficult for the staff, patients, everybody".
Through the occupational health company the couple worked for, friends and family raised the money which was put towards the new unit when work started in 2020.
The new unit will open later this summer, the hospital said.
Related Internet Links
The BBC is not responsible for the content of external sites.