Windrush Day celebrated in Northampton to keep 'that memory alive'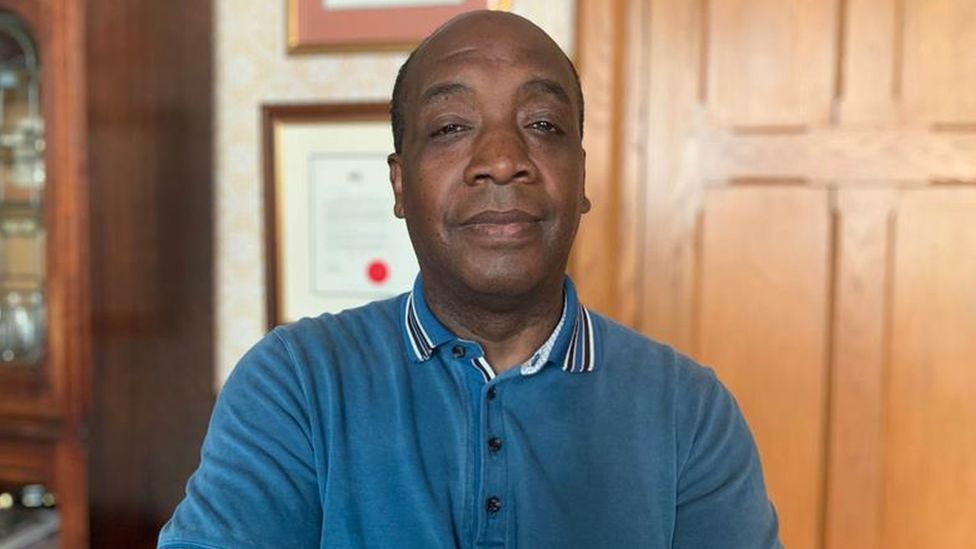 People in Northampton have raised a flag for Windrush Day and said it was an important event to make the descendent of post-war immigrants "know where they stem from".
A day of events marked the arrival of Afro-Caribbean immigrants to the UK on the Windrush ship on 22 June 1948.
Windrush Day is marked annually.
Local history group co-ordinator Weekes Baptiste said it was to remind people that people migrated "to help build and restructure this country".
People from across the British Empire were encouraged to migrate to the UK to help with shortages in the labour market, and they became known as the Windrush Generation - regardless of whether they arrived on the Windrush, which docked at Tilbury in Essex.
Dennis Meredith, mayor of Northampton, said he remembered the Windrush Generation arriving and trying to find housing when many faced discrimination.
"In Northampton, we have a very diverse community, and we should welcome that," he said.
Janet Gordon's parents came from Jamaica in the early 1950s with the expectation of working in England.
She said celebrating the post-war wave of immigration was "important to keep that memory alive".
"Windrush, to me, is about celebrating those people who came over to make a better world for us, a better life for us," she said.
"The younger generation are the future and it's important for them to know where they stem from."
Weekes Baptiste, a co-ordinator at the Black History Association in Northampton, said it aimed to make black history more accessible.
His parents arrived from Grenada in the 1950s, and he joined them in the 1960s with his brother.
He said Windrush Day was about identity, reconnecting and "making sure that people remember".
"It's about having a stamp, having an authority, having a presence in England and making people know that we came here for a reason, we came here for a purpose - to help build and restructure this country and make our lives a lot better," he said.