Connecting Hands care staff buy child items as 'no money available'
By Phil Shepka
BBC News, East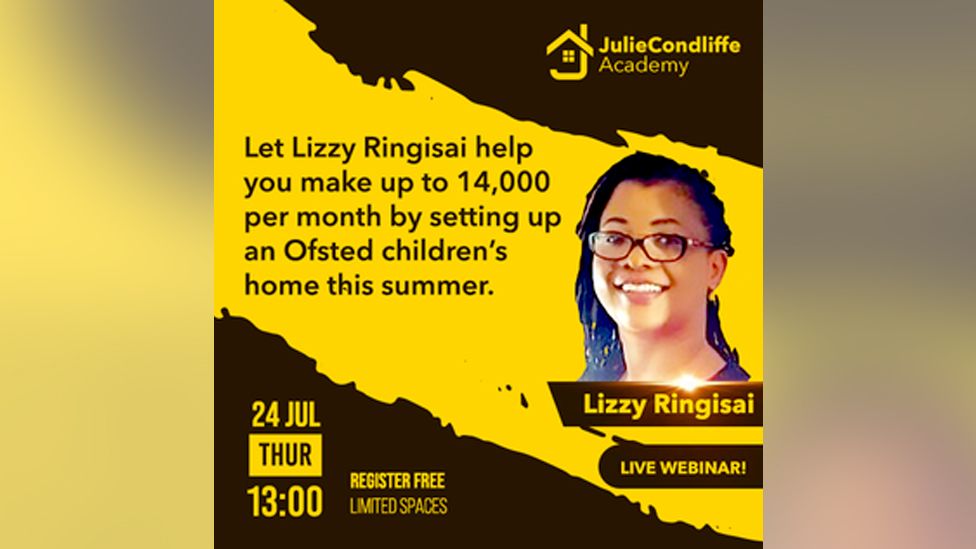 Staff at a firm whose chief was touted as a speaker on how to make thousands of pounds from children's homes had to buy a child essential items themselves.
Toiletries, towels and bedding were purchased by staff at a home run by Northamptonshire-based Bttlr Limited, according to Ofsted, because there had been "no money available" to them.
Director Lizzy Ringisai was advertised to speak at webinars, with one on how to earn up to £14,000 per child a week.
She has yet to respond to the BBC.
However, the home's responsible individual said the company, which runs under the trading name Connecting Hands, was "dedicated to the care of our young people".
Facebook posts about two webinars in 2019 at which the £14,000 figure was mentioned are available online.
One from June of that year states: "Tomorrow... I am hosting Lizzy Ringisai for a special live webinar on how to get Ofsted registerd [sic] and earn up to £14,000 per child per week."
Another the following month has the description: "Join Lizzy Ringisai tomorrow... on a live webinar as she will help you make up to £14,000 per month by setting up an Ofsted children's home this summer."
Ms Ringisai is Bttlr's only director, and in the company's recently published accounts it states that in 2021 the company paid £70,515 to directors following loans.
Connecting Hands' website says that alongside its four current homes in Northamptonshire, it is due to open another in Coventry for five children and young people with mild to moderate learning difficulties.
In March, Ofsted social care inspector Caroline Brailsford visited one of its homes, which provides care for a single child who is experiencing emotional, social and behavioural difficulties. It followed "anonymous complaints" from current or former staff.
Ms Brailsford said the complaints included that "staffing arrangements were not sufficient" and were over "concerns about a lack of money in the home to meet the child's needs".
She said staff turnover was "very high", with nine staff leaving since the previous inspection 10 months earlier.
Other findings included that staff were not "appropriately qualified", that staff felt pressured to work extra shifts and that low staff morale was having a negative impact on the care.
The report also said: "Staff say that they do not have access to sufficient funds to purchase household items or to provide a range of activities for the child.
"There was no petty cash in the home on the day of the monitoring visit. Staff have purchased toiletries, towels, bedding, pens and paper out of their own money because there has been no money available."
The home then underwent a full inspection the following month, with a report saying it was "not yet delivering good help and care". But it highlighted "no serious or widespread failures" that resulted in "welfare not being safeguarded or promoted".
Inspectors found the "effectiveness of leaders and managers" was inadequate.
When contacted by the BBC, the home's responsible individual, Florin Morar, said: "We have and will continue to make any necessary changes to ensure that the lives of the young people we look after are not in danger, and offer them a safe and homely environment where they can thrive and achieve.
"The young person at [the home] is making good progress, is very settled, is engaging in education and lives in a happy environment.
"As a company we are dedicated to the care of our young people and cannot comment due to data protection and duty of care we have.
"However, we work with Ofsted who are our regulatory body and any concerns they might have, we work hand-in-hand to make sure we achieve the best outcome for our children as per our company ethos."
Related Internet Links
The BBC is not responsible for the content of external sites.