HS2: Vast Roman settlement found by archaeologists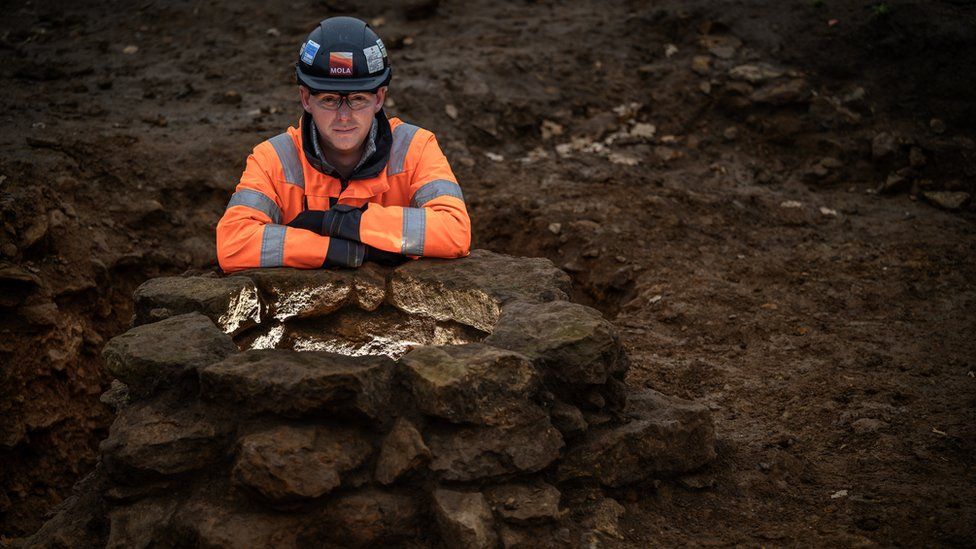 Archaeologists working on the route of the HS2 high-speed railway have found a vast wealthy Roman trading settlement.
The discovery was made during excavations at the site in south Northamptonshire.
A team of about 80 archaeologists have been working on the site for a year and discovered numerous artefacts, including more than 300 Roman coins.
Site manager James West said it was "extraordinary and tells us so much about the people who lived here".
The site, known as Blackgrounds after the black soil found there, is near the villages of Edgcote and Chipping Warden.
Archaeologists said it was an Iron Age village, formed of more than 30 roundhouses, believed to have been established in about 400 BC, that developed into a wealthy Roman trading town.
Discoveries showed the settlement expanded over time, becoming more prosperous during the Roman period, with new stone buildings and roads being built.
The team uncovered a 10m (33ft) wide Roman road, described as "exceptional in its size", running through the site.
HS2 archaeologists found evidence of workshops, kilns, several "beautifully preserved wells" and fiery red-coloured earth, which indicates activities such as bread-making and metal work occurred.
Alongside the coins found, glass vessels, highly decorative pottery, jewellery and evidence of make-up was uncovered.
Traces of the mineral galena - lead sulphide - a substance that was crushed and mixed with oil as make-up, was found on the site, archaeologists said.
Mr West said it was one of the "most impressive sites" Museum of London Archaeology (MOLA) had discovered working on HS2.
He said the Blackgrounds area "spans multiple time periods" and had given the team several "high-quality finds".
"The site really does have the potential to transform our understanding of the Roman landscape in the region and beyond," he added.
Related Internet Links
The BBC is not responsible for the content of external sites.