Northampton graduation: 'I'm really happy to celebrate'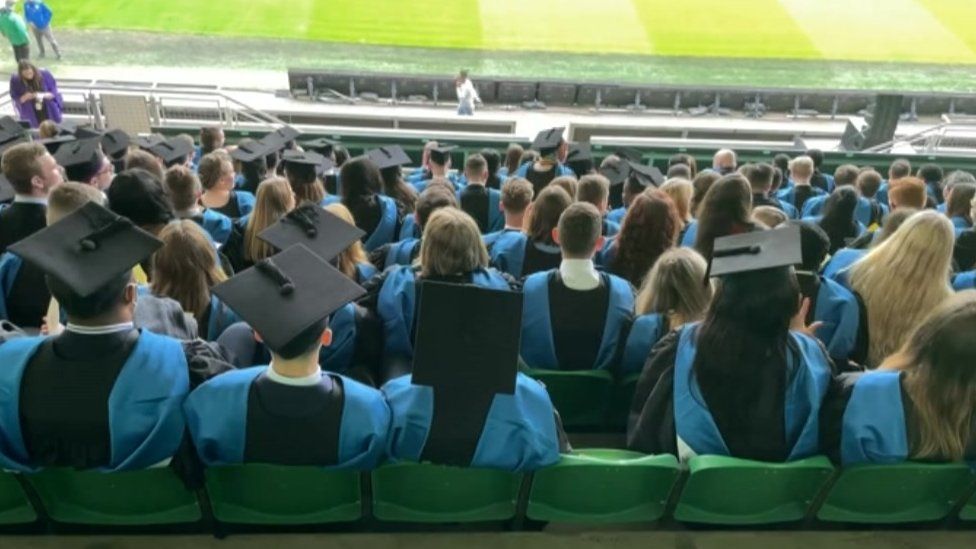 Universities have begun to bring back in-person graduation ceremonies for the first time since Covid restrictions came in in March 2020. For those students whose learning has been disrupted for the last 18 months it is a little bit of normality.
The University of Northampton held its first ceremony since February 2020 at the home of Northampton Saints RUFC - Franklin's Gardens.
Not only were those who completed their degree this year able to attend, but also students whose graduation was cancelled last year have been able to finally don their gowns and mortar boards.
'After all the work I couldn't just walk off'
Whitney Dongo-DeFreitas, who graduated in human biosciences, says having a ceremony "feels very strange".
"I'm glad that I'm finally getting it done because I didn't think it was going to happen until next year," she says.
"I'm really happy to celebrate and then move on to the next step."
She is now working on publishing her dissertation about the impact of Covid on pregnant women, but says the pandemic disrupted her degree.
"Instead of going into the lab to do work it was virtual lab work. We were watching videos of people doing the work, so it didn't feel authentic," she says.
The graduate says writing her dissertation was "the hardest" part of the remote learning she had to do from her home in London.
"I work better in a library, away from home, so I had to shut myself away in my room. It was not fun," she adds.
She says her family are "happy they can finally be a part of my degree and my student life".
"After all the work I put into my degree I couldn't just walk off. I needed to do something with my family."
'I want to celebrate my achievements'
Alena Patel should have had a graduation ceremony for her acting degree last year.
She says: "It's really exciting because we've had a year and a half of waiting for this moment so at times it was like 'is it worth it?' but to be here and in the gown is really cool, really exciting."
Her course had a virtual graduation but she described it as "nowhere near the same because I wasn't with my friends and celebrating with them".
Ms Patel is about to go on a theatre and education tour over the next month and half, and says the graduation ceremony is "important".
She says: "It's about closure, you've had these three or four years of studying; you just want to be able to celebrate all your achievements.
"I grew as a person at university, so having this end-of-degree ceremony allows me to celebrate everything I've achieved academically and personally.
"Even though it's a year and half later, I'm happy we've managed to get together."
Related Internet Links
The BBC is not responsible for the content of external sites.