Why is there a shortage of lorry drivers?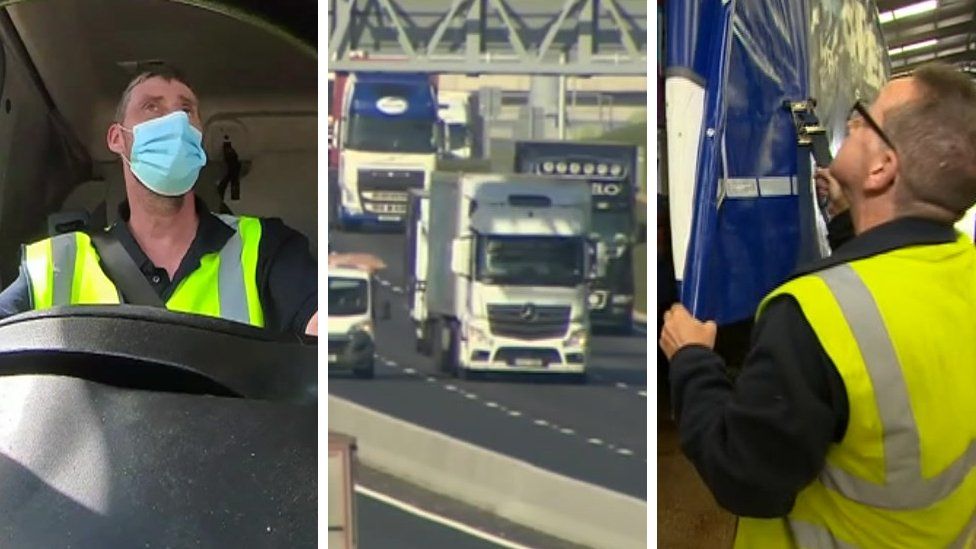 A shortage of lorry drivers is hitting distribution companies and threatens to lead to higher prices for products and stock shortages. What is being done about it and how can more drivers be found?
A 'real risk' of empty shelves
Simon Stockwin, from Bretts Transport, in Wisbech, Cambridgeshire, says the last 18 months have been "especially difficult" with driver numbers.
"We've had to be quite bold over the last few weeks by giving a significant pay rise to our drivers," he says.
"But, unfortunately, a proportion of that cost will be passed on to our customers, which will end up affecting the products on the shelves in supermarkets."
As well as prices potentially going up, he says there is "certainly a very real risk at the moment of some products not getting to shelves in time".
Sandeep Kang runs Dream Transport Solutions, in Northampton, and has begun training as an HGV driver himself.
"I've got a couple of units just parked up and I have finance to pay and I have got road tax to pay and I've got inspections to pay," he says.
"That's a fixed cost to the business and, at the same time, I have not got a driver to put them on the road and, obviously, I cannot afford to park them up and leave it as it is so I have decided to do training myself."
'A lot of people will say the money's bad'
Lorry driver Shona Harnett, from Leighton Buzzard, says the hours puts off some potential recruits.
She says: "A lot of people will say the money's bad for what the job is. I never had an issue with the money, but the hours is the main thing."
Steven Parish, a lorry driver who works across the East of England, says facilities for lorry drivers are not good enough.
He says: "The truck stops are getting less and less and less, but, by six, seven o'clock at night, most truck stops full up. So you are then turned away.
"If you're at the end of you're working day and you've only got minutes left on you driving duty time, you've got nowhere to go."
Simon White, who has been driving lorries for 25 years, says it is "probably the image" that puts off new recruits.
But he says the "old-school 1970s, 1980s lorry driver" stereotype is inaccurate.
A potentially 'dire' shortage
The Road Haulage Association (RHA) says there is a shortage of about 60,000 drivers.
It estimates about 30,000 HGV driving tests were lost last year because of the Covid pandemic.
Tom Cornwell, from the RHA, says the driver shortage is "going to be dire".
"You're going to see businesses that can't survive because of the increase in the wages they're having to pay, if they are able to get drivers at all," he says.
"And if they're not, that leads to vehicles parked up and deliveries not made on time.
"That's when you then see it having that knock-on effect to our shelves and what we buy."
He says there is an issue with recruitment, with many European drivers having "gone back home" due to Brexit.
'We're over-run at the moment'
Heidi Lorefice, from LGV trainers in Northampton, says the company is "massively busy".
"We're over-run at the moment," she says. "We're trying to expand to accommodate it."
The company is "trying to clear a backlog that was created by eight months of being closed" while also seeing a "huge influx" of new customers looking to upgrade or to improve their licences, she adds.
The Department of Transport says it is "well aware of HGV driver shortages".
In a statement, it said: "Most of the solutions are commercial and within the industry, with progress already being made in key areas such as testing and recruitment, and a big focus towards improving pay, working conditions and diversity."
Related Internet Links
The BBC is not responsible for the content of external sites.