Northamptonshire unitaries have nowhere for all councillors to meet
Two new councils formed following the financial collapse of an authority which spent £53m on new headquarters do not have anywhere big enough to conduct full council meetings.
The lack of large enough council chambers means the new authorities will have to pay to hire venues.
The first ever elections for both North and West Northamptonshire unitary councils take place on Thursday.
The authorities will take over services not only from the old county council, but also from the seven district and borough councils across Northamptonshire, which were also scrapped as part of the local government reorganisation.
North Northants Council will have 78 councillors, while West Northants Council will have 93.
None of the headquarters previously belonging to the eight axed authorities have big enough council chambers to accommodate all the relevant members and council officers.
This includes County Hall, where the now-defunct county council's full council meetings took place.
That authority's One Angel Square headquarters, which opened in 2017 at a cost of £53m, never had a council chamber.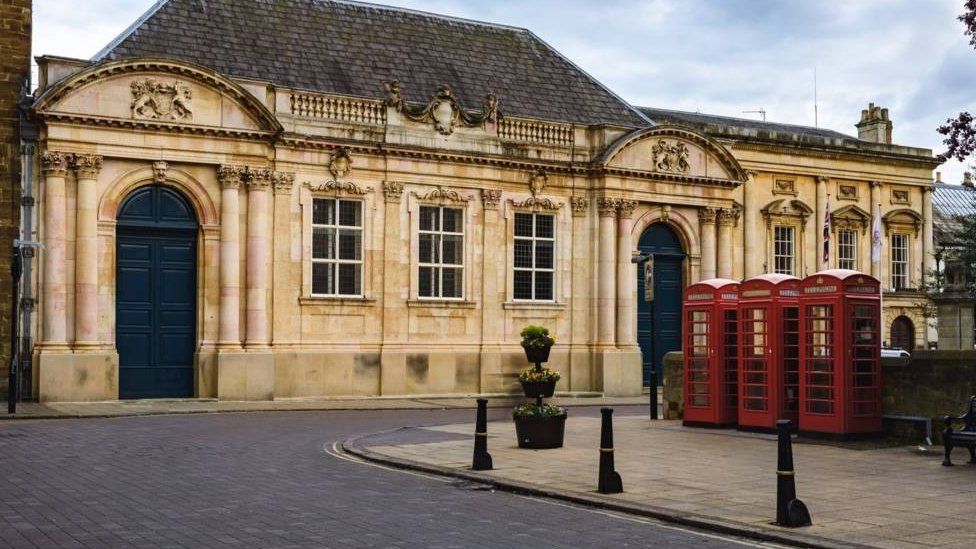 BBC
Money in a unitary world
Financial pluses and minuses of the new councils
£520mCounty council debt to be split between the new unitaries
£85mTotal savings associated with the transformation into two new authorities

£49mTransformation savings already delivered

£36mSavings still to be delivered.
Source: West Northamptonshire Council
It is likely North Northants' initial full council meetings will take place at Kettering Conference Centre, while Northampton Saints' Franklin's Gardens home has been mentioned as one possible venue for West Northants.
A spokesman for North Northamptonshire Council confirmed it "does not have a defined HQ".
He added that no decisions had been made on the future of buildings formerly used by Kettering Borough Council, East Northamptonshire Council, Corby Borough Council or the Borough Council of Wellingborough.
The spokesman said any decisions on both "a defined HQ" and how the other buildings "are best utilised" would be for elected members to make.
He said plans for the authority's first full council meeting on 26 May were being "finalised".
A spokesman for West Northamptonshire Council said "no conclusions" had been reached regarding its buildings.
He said One Angel Square has been named as the authority's headquarters "for legal purposes", but that "could be changed".
The spokesman said no decision had been taken on what to do with County Hall, Northampton Borough Council's Guildhall or council buildings in South Northamptonshire and Daventry.
He said the authority was "committed to retaining a localised presence and making sure a number of community hubs exist".
The spokesman said "no decision has been taken on where full council meetings will be held in future," but added it did not have to be in the same buildings that contained offices.
ENGLAND'S ELECTIONS: THE BASICS
What's happening? On 6 May, people across England will vote for new councillors, mayors and police and crime commissioners. Register to vote here.
Why does it matter? When parties win control of a council, they decide policies for your area which could affect services ranging from social care to rubbish collection. Find out more about what councils do.
Related Internet Links
The BBC is not responsible for the content of external sites.