Coronavirus: Northamptonshire Police to fine rule flouters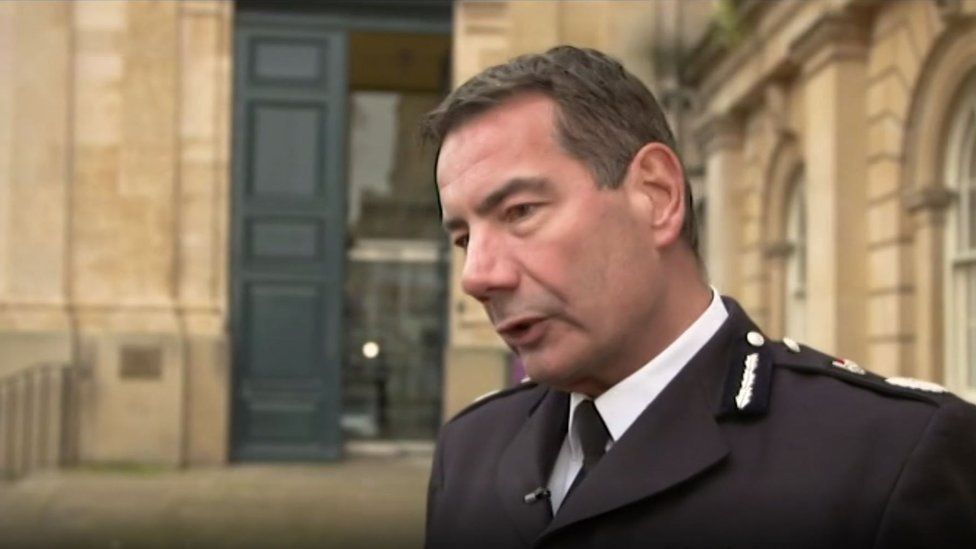 A police boss has said his force is "upping its enforcement activity" as people continue to flout social distancing regulations.
Northamptonshire's Chief Constable Nick Adderley said he would not rule out road blocks or checking supermarket trolleys.
However, after criticism, he was forced to clarify that police will not be judging people on what they are buying.
But officers will be handing out £60 fines for those not social distancing.
Last month Mr Adderley spoke of a surge in reports of people gathering in groups but said he wanted to educate the public first, rather than using police powers to punish those breaching government regulations.
He has now said the "three-week grace period is over".
Officers can issue penalty notices of £60 which are doubled for each repeat offence up to a £960 cap.
By and large, the police are doing a very good job in difficult circumstances. But there are a small minority whose behaviour has been wholly inappropriate. The threat made in this clip reveals worrying and unacceptable authoritarian instincts.https://t.co/sMJI3Lvla5

— David Gauke (@DavidGauke) April 9, 2020
Mr Adderley said while most people were staying at home, "sadly, there are a small minority of people in this county who continue to flout the restrictions despite how hard we have tried to engage with them".
"This is why we will be upping our enforcement activity and fining people who are found to be breaching the Covid-19 restrictions, be it people gathering in public or at other people's homes, or making journeys that are not essential," he said.
Mr Adderley added: "We will not, at this stage, be setting up road blocks. We will not, at this stage, start to marshal supermarkets and checking the items in baskets and trolleys to see whether it's a legitimate, necessary item.
"But again, be under no illusion, if people do not heed the warnings and the pleas I'm making today, we will start to do that."
However after criticism on social media, from among others former Justice Secretary David Gauke and from UK civil liberties group Big Brother Watch which compared the measures to a "police state", Mr Adderley tweeted to clarify his comments.
I will keep reiterating the position, we will NOT be searching trolleys or baskets and we will not be determining what is and isn't an essential item. The point I was making was around the necessity of the journey.

— Nick Adderley (@NorthantsChief) April 9, 2020
Related Internet Links
The BBC is not responsible for the content of external sites.