Former Northampton shoe factories 'seriously affect' the town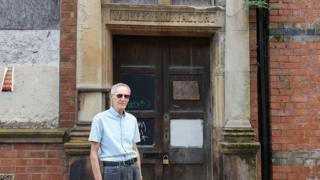 Derelict former shoe factories "seriously affect the look" of a town world-renowned for its footwear heritage, a historian has said.
Northampton has around 150 factories in town, with many now flats or offices.
A few such as Tricker's, Crockett & Jones and Church's still make footwear, but many have not been redeveloped.
Peter Perkins, from the Northamptonshire Industrial Archaeology Group, said renovated factories could become be "an asset to the town".
Northampton Borough Council said it would work with developers "to bring these heritage assets back to viable use".
Mr Perkins said former factories were a "testament" to Northampton's heritage and had unique architectural importance.
"Particularly the Victorian streetscapes of terraced housing with shoe and leather factories interspersed among the terraced houses, often on street corners," he said.
But the architectural importance can cause issues for developers, as many of the factories are Grade-II listed, which limits what redevelopment can take place.
The derelict Hawkins shoe factory is one of the most prominent undeveloped buildings, despite having had plans for renovation first submitted almost 20 years ago.
In 2016, plans were approved but issues around the windows and parking meant work never started, and now the building is for sale.
Next door, however, the old Globe Leather Works factory in Dunster Street is due to be converted into 39 apartments.
In 2011 the council created the Boot and Shoe Quarter Conservation Area, where the majority of the factories are located.
It means there are extra planning controls to protect the area's historic and architectural elements.
Mr Perkins described this as "positive action", and the council said it had been successful because it had "protected what makes the area special".
More on Northamptonshire shoes:
James Hill, councillor responsible for planning, said that in the case of the Hawkins factory planning permission had been granted but "but these permissions have not been implemented".
"We will continue to work with prospective developers to resolve technical details and to encourage developments to go ahead," he added.