Road blocked as Carlsberg lorry sheds load in Towcester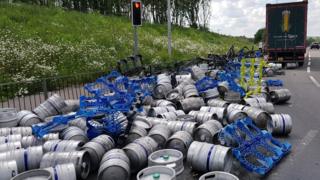 Hundreds of beer kegs partially blocked a busy roundabout when they fell off a lorry.
The Carlsberg-branded vehicle shed most of its 380-keg load at the A43 and Brackley Road junction near Towcester just before midday.
A Northamptonshire Police officer tweeted one lane had been blocked, causing slight delays.
The company said the spillage involved a lorry belonging to a logistics partner.
A spokeswoman said: "We're aware of the lorry incident in Towcester and extend our thanks to the police for assisting with the clear-up.
"We apologise for any inconvenience this caused drivers."
Carlsberg has a brewery and its UK head office in nearby Northampton.