Kettering fire: Bed shop hit by 'massive' blaze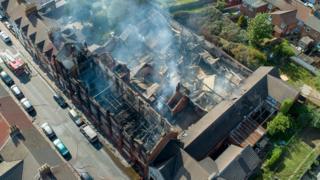 Firefighters have been dealing with a large blaze at a town centre bed store, where an eyewitness reported "30ft flames".
Another eyewitness said the fire was coming out of the windows of the Kettering Bedding Centre.
It broke out shortly after 12:30 BST in the shop on Regent Street in the Northamptonshire town.
Neighbouring homes were evacuated with residents seeking refuge in a church hall.
Northamptonshire Fire and Rescue Service said all three floors of the 100m (328ft) by 150m (492ft) building, and its basement, had been affected by the fire.
No casualties have been reported, while people were advised by the emergency services to avoid the area.
Michael McAleer, who lives three doors down the terraced street from the fire, was told by police to leave his house.
He said he could "see all the flames coming through the windows" of the shop, and had not be told when he would be allowed home.
Residents gathered at the nearby St Andrew's Church Hall and Kettering Borough Council has been meeting them to discuss emergency accommodation.
Vince Reeves, another eyewitness, said the fire seemed to be coming from the ground floor of the building.
He said it appeared to have died down a bit, but then "really sparked up again".
"The top was just billowing smoke, with massive flames coming out the windows - 10ft to 15ft," he said.
"Then the roof took off a little while after that and there were flames probably 20ft to 30ft into the air."
Mr Reeves also said it appeared part of a wall had fallen down on to some cars parked on the street.
The shop has been on Regent Street since 1970 and is owned by FL Caswell, which was founded in 1926, according to its website.