Wellingborough evacuated after 'suicide vest' dumped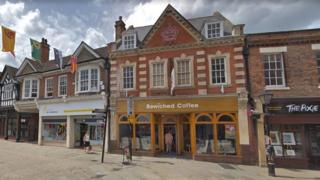 A man whose dumping of a fake suicide vest in a bin sparked a security alert has been given a police caution.
A controlled explosion had to be carried out on the mocked-up device the 28-year-old wore to a fancy dress party on Saturday.
A bomb disposal team was called in after council workers found it in Wellingborough, Northamptonshire, on Sunday, forcing shops to be evacuated.
Northamptonshire Police said it was "highly irresponsible" behaviour.
The man, from Kettering, admitted wearing, and subsequently disposing of the device in a bin in Market Street, when he attended a voluntary police interview.
'Genuine remorse'
The discovery led to town centre roads being shut and a 100m cordon being put in place.
Ch Supt Mick Stamper said all reports of suspicious packages were taken "extremely seriously".
"The actions of this individual were highly irresponsible and resulted in huge disruption, inconvenience and concern to local people, shoppers and businesses," he said.
"This man now has a police record simply because he didn't think through his actions. He dressed up in a costume with a fake explosive attached believing it was OK because he was going to a private function.
"It was not OK. Even if he had stayed at the function, it is still an offence to dress up in any way that would either intentionally put people in fear of violence or that would be perceived as racially or religiously aggravated."
Ch Supt Stamper said the man had shown "genuine remorse" for his actions.
As part of his caution, he will complete 40 hours of litter-picking in Wellingborough and pay the borough council £500 in compensation.