Plane and gliders in near miss over M1 near Northampton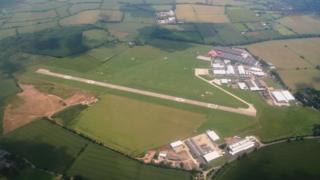 An aircraft had to take evasive action in mid-air over the M1 to avoid two gliders that were taking part in a competition, a report has said.
The gliders were competing on 30 June when they came into conflict with the Piper PA-31 aircraft above junction 15a, near Northampton.
A UK Airprox Board report said the "avoiding actions of the PA-31 pilot" had prevented a mid-air collision.
It rated the chance of collision as B, which is the second-highest possible.
The light aircraft encountered the gliders shortly after departure from Sywell Aerodrome at 14:12 BST, the report said.
The Piper pilot told the investigation he first turned to avoid a glider on his left and then had to immediately take avoiding action after finding another glider on his right.
He reported the encounter to Sywell.
The report only assessed the risk between the aircraft and the first glider, a Standard Cirrus, which was climbing at about 5,000 to 6,000ft (1,524 to 1,828m) above ground level.
The glider pilot, who was with a large group of gliders flying in a competition, said he had only heard the Piper's engines as it flew past.
He also reported the incident to Sywell.
The report concluded the incident had been "close enough that it had been the avoiding actions of the PA-31 pilot" that had prevented a mid-air collision.