Northamptonshire County Council: Libraries to be community managed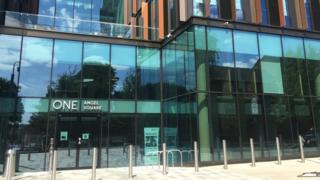 A crisis-hit council that is millions of pounds overspent on its budget is to offload libraries on to the community to try to keep them open.
Northamptonshire County Council will continue to manage 14, support five and the remaining 17 will be community-led.
The scheme is part of the Conservative council's budget for 2019-20.
Many services will also be brought back in-house, which the Labour opposition welcomed whilst querying the details of how savings will be made.
The authority, which has twice banned spending in 2018, must make savings of £42.9m in 2019-20.
Council leader Matt Golby stressed there would be no further major effects on frontline services, with savings met through improved financial management.
The authority's plan also includes re-investing in children's services to reduce the number of residential placements outside the county.
It comes after the government last week brought in a commissioner to oversee the county's children's services in reaction to an Ofsted warning that children were "at risk".
Plans to sell County Hall, which is still used for council meetings, have also been put on hold, the council confirmed.
There are also long-term plans to create £1.5m savings over three years by revamping two adult care centres in Northampton and building a nursing home in the north of the county.
Council leader Matt Golby said: "To put a budget forward today with no big effect on frontline services means we probably do have enough money to deal with our issues and the external criticism was that it was how Northamptonshire managed it.
"That has been quite hard for me to comprehend on one level but we can see it in this budget."
The council has a deficit of £15m on this year's budget, but at one stage earlier this year it was believed to be as much as £70m.
The authority won government permission last week to spend £70m of capital receipts from asset sales - such as from the now delayed sale of County Hall - to balance the books, which is normally prohibited.
Council chief executive Theresa Grant, who took on the role in July, said the plan focuses on reversing outsourcing of services.
"If you look at the proposals in front of us today they are about bringing children into the county, bringing adults into facilities in-house and which ultimately provides much better outcomes for people but also delivers savings," she said.
In reaction, county Labour finance spokesman Mick Scrimshaw said "the devil would be in the detail".
He said: "Clearly there are going to be savings... and they will affect the good people of Northampton, but to what degree is the important thing.
"I'm pleased that the council now seem willing to bring services back in house which is clearly something we've consistently called for and is a clear acknowledgement that the previous ambitions were a mistake."
The council will be scrapped in 2020, along with seven other Northamptonshire borough and district councils, to make way for two new unitary authorities.
---
'Big and significant change'
By Sam Read, BBC Look East
Overall the council will be pleased that it says it has managed to avoid those big frontline service cuts.
But, there is quite a fundamental change in thinking in all this, moving away from trying to outsource many services to private providers to try to bring them back in-house.
That big change says something quite a lot about how the authority believes it was going in the wrong direction under the previous leadership and I think that is significant.
The council can hardly hide its joy at being given this special permission by the government last week to use money in a different way and the council wants to take that as a vote of confidence.
But overall this council has a history of failing to meet its savings targets so everyone will be watching closely to see if this time it can.
---
What does the public think?
On Northampton's 13th century Market Square, the mood among people seemed resigned.
"I'm not really bothered about it to be honest," said Eammonn Fitzpatrick, who works on a fruit and veg stall.
"[The council] have brought [money problems] on themselves. I don't think it's down to this present leadership. The predecessors did the damage."
Shopper Ruth Gould, 68, added: "The situation that we are in is possibly one that other councils are very close to. I also think it's something that we must have been building up to for many years and they should have spotted it earlier."