James Bond gun withdrawn from auction over 'fake' row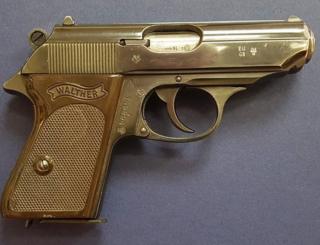 A James Bond gun has been withdrawn from auction because experts "cannot agree" on its authenticity.
Actor Bernard Lee, who played M in Dr No in 1962, claimed in a letter the Walther PPK pistol was handed to Sean Connery in the opening scenes.
Notes from the movie's producers also verify the fleeting appearance of the weapon, which was replaced for the rest of the film.
Auctioneer Jonathan Humbert said its sale was pulled "with a heavy heart".
The live Walther PPK was owned by Mr Lee at the time of filming, who brought it on set when a prop was not available.
Provenance notes provided by filmmakers Eon Productions said that Mr Lee's "live and unregistered" PPK was handed to Sean Connery in the first scenes only, but was "inappropriate for filming on location". A Walther PP was used for the rest of the film.
"This is therefore, the first Walther PPK to appear in a Bond film," the notes read.
A signed letter from Mr Lee also says: "This pistol is the first ever to appear in a James Bond film."
Mr Humbert said he had received a number of expert queries, but there was no reason to doubt the gun's provenance.
The decision to stop its sale was made "in full consultation with the vendor", he said.
"Given such a tide of differing opinion, the only course was to regretfully withdraw it, pending further diligence and investigation," he said.
"Even the experts cannot agree."
The pistol was estimated to fetch £80,000 at Humbert and Ellis auctioneers next week.