Northamptonshire Police to 'phase out' baseball caps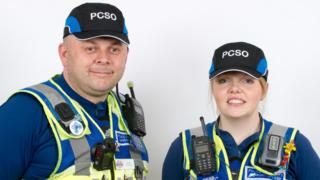 Baseball caps do not "portray the right image" of police officers and will be phased out of a force's uniform, a Chief Constable says.
Northamptonshire Police introduced "bump caps" - a baseball cap with a reinforced frame - last May to replace traditional custodian helmets and bowler hats.
But Nick Adderley, who became Chief Constable in August, said "for many officers not every occasion warrants wearing a bump cap".
Traditional headgear will now return.
Mr Adderley, previously Assistant Chief Constable at Staffordshire Police, tweeted that "I do not believe that the caps portray the right image of the force and the public support this view".
He added: "Response officers, and specialist teams - those that face hazardous conditions on a daily basis - will continue to wear the bump cap in their daily role".
Other officers will have the option of choosing from traditional headgear, including flat patrol caps, he said.
You may also be interested in:
The announcement was well received on Twitter, one user saying: "Very much welcome this decision, Sir. I can't wait to use my bowler hat again!"
Another said: "Well done, it's an amateur look at best, I refused to wear one because it made me look like Jimmie Krankie".
Pat Anstead from the Northants Police Federation said "our officers are proud of the traditions of British policing and believe that this option supports both safety and tradition".