Rushden Lakes: Council objects to retail park plans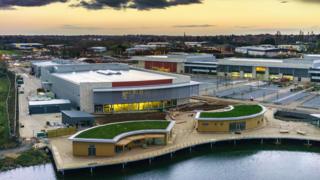 The government is to be asked to make the final decision on whether to allow an out-of-town shopping park to expand.
Developers want to add 29 units to the existing 50 at Rushden Lakes in Northamptonshire.
East Northamptonshire Council currently has the final say, but borough councillors in Northampton have voted to ask ministers to decide instead.
A spokesman for East Northamptonshire Council said it would await the Secretary of State's response.
Councillors in Northampton voted to register "strongl objections" to plans to expand the retail park at a meeting on Tuesday night.
A report, commissioned by the Conservative-run authority, said any growth would "effectively turn Rushden Lakes into a town centre in its own right" and the park had already negatively affected Northampton town centre's "viability and vitality".
Four-million people visited the retail park in the year after it opened in 2017, according to the owners.
A number of shop units on Abington Street in Northampton are currently vacant, including the former Marks & Spencer and BHS stores.
The BBC broadcaster, the Reverend Richard Coles, who grew up in the town, warned earlier this year that the centre was "decaying".
James Hill, who is responsible for planning at Northampton Borough Council, said: "Town centres across the country are facing the same issues.
"I think town centres like Northampton, Rushden and Higham Ferrers have a history and character that perhaps these retail shops don't offer and, once they're gone, they're gone."
The authority objected to Rushden Lakes in its early stages but, after a public inquiry, the project was approved by the then Secretary of State Eric Pickles in 2014.
A spokeswoman for East Northamptonshire Council said: "East Northamptonshire Council will await the Secretary of State's decision to the request from Northampton Borough Council, but in the meantime will continue to assess the planning application."
The BBC has contacted the developers for comment.