Dylan Tiffin-Brown: Father guilty of murdering two-year-old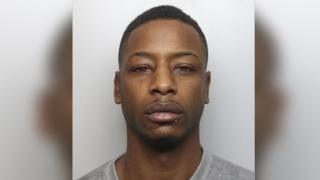 A man has been found guilty of murdering his two-year-old son.
Raphael Kennedy, 31, attacked Dylan Tiffin-Brown at his flat in Arthur Street, Northampton, on 15 December. He then waited more than an hour to call an ambulance.
Kennedy denied the charge, claiming someone else had injured Dylan while he was out dealing drugs.
The jury took six hours to return the unanimous verdict following a three-week trial at Northampton Crown Court.
During the trial, the court heard that Dylan had five different drugs in his system when he died, including cocaine and heroin.
He also had multiple fractures, lacerations to his liver and substantial abdominal injuries that would have left him in significant pain.
In a statement, Dylan's mother told how he was "the most perfect little boy you could ever meet".
She said: "He had a smile as bright as the sun, his eyes were crystals like the stars above and his love was the best feeling in the world.
"Knowing I won't get to hold my baby again leaves a pain like no other."
DCI Ally White, from the East Midlands Special Operations Unit, said there were "no winners in this sad case".
He told how Kennedy had only known his son for 10 weeks before he beat him "with such ferocity" that he caused "devastating internal haemorrhaging of major organs".
When Dylan was taken to hospital, Kennedy initially told paramedics that he had "tripped and fell over".
But DCI White said three nationally-recognised professional experts all agreed that the "catastrophic" injuries which caused the toddler's death could not be explained by "a simple fall".
During cross-examination, Kennedy admitted being a drug dealer and the court heard how he had previously been convicted for GBH after breaking an ex-partner's jaw.
Kennedy is due to be sentenced on 30 October.