Nipple-pulling Northampton hospital doctor struck off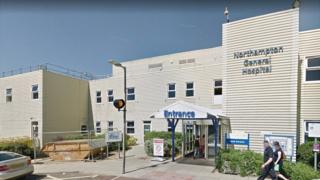 A doctor who pulled the nipples of a medical student during a heart examination has been struck off.
Dr Nilesh Jagjivan was working as a locum registrar at Northampton General Hospital last April when he offered to examine the young woman.
During it, he kissed her neck, put his hands up her skirt and had an erection, a Medical Practitioners Tribunal Service panel found.
It was "strikingly similar" to his previous behaviour, the panel said.
The tribunal heard he offered the examination for arrhythmia (irregular heartbeat) after the student had disclosed a previous diagnosis.
A witness statement from the student, Miss A, said Jagjivan "locked the door" of the consultation room for "privacy" and touched her breasts in a manner that the tribunal said was "not clinically indicated".
He also inappropriately suggested to Miss A that she get fully undressed, asked her to excite herself sexually to induce arrhythmia and pulled her towards him when she wanted to leave the room.
When she pushed Jagjivan away, Miss A had her nipples pulled, describing him laughing and behaving as though nothing had happened.
Security cameras
The panel found: "She had repeatedly said 'no' to his suggestions, she had physically pushed him away, and repeatedly rejected his advances. Nevertheless he persisted in the face of her evident discomfort and unwillingness to respond to his suggestions."
It found Jagjivan's conduct was sexually motivated, and after the echocardiogram, he also tried to stop Miss A leaving before suggesting they go separate ways to avoid security cameras.
The panel also found he had suggested about doing the same again the following night.
The MPTS panel said that he had previously asked a female patient to excite herself sexually in order to raise her heart rate which would then be medically measured, and he placed his hand on hers when she put it near her genital area.
Jagjivan has been struck off the medical register. He has been immediately suspended to cover a 28-day appeal period.