Rushden: PM to receive plastic recycling plant petition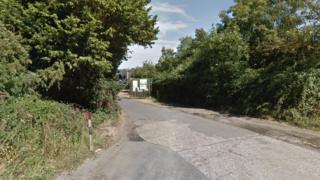 A petition opposing plans for a plastic recycling facility will be given to the prime minister at Downing Street later.
Objectors say the proposed plant on Upper Higham Lane, near Rushden, will cause a risk to public health by releasing chemicals.
It would turn waste plastic into fuel, and neither Public Health England or the Environment Agency oppose the plan.
The scheme, which has been recommended for approval by Northamptonshire County Council, faces a decision on Thursday.
The Conservative MP for Wellingborough, Peter Bone, is opposed to the plant and will join campaigners in delivering the petition to Prime Minister Theresa May.
He warned that the site could store hundreds of thousands of litres of diesel.
"We could have a terrible disaster if this scheme went forward as there is no major fire station nearby," said Mr Bone.
Kaye Pentland from Residents Against Inappropriate Developments (RAID) said more than 230 people had signed the petition.
"We've got 233 signatures," she said. "For us, it's a lot. That is a high proportion of our small rural community."
Letters of objection
If approved, the firm behind the application, Energy Roots Limited, will construct a series of buildings including a plastic storage area and extruder, a processing shed and some laboratories and workshops on a small existing industrial estate.
A report by council officers said "waste plastic will be reprocessed into useful substances" such as diesel, petrol and liquid petroleum gas.
Besides the petition, the council has received 102 letters of objection, while East Northamptonshire Council, and the parish councils of Stanwick, Melchbourne and Yeldon and Chelveston-cum Caldecott have also objected.
Planning permission was given two years ago for a combined heat and power plant on the site and the applicant has said it will revert to this scheme if the current application is rejected.