Carlsberg blast inquest: Coroner's warning after ammonia death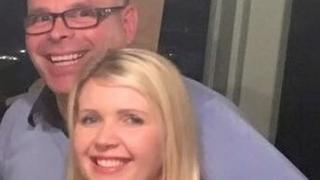 Drinks giant Carlsberg has been warned by a coroner "future deaths will occur" unless action is taken following the death of an engineer.
David Chandler, 45, from Bridgnorth, Shropshire, died at the Carlsberg plant in Northampton on 9 November 2016.
His death from inhalation of ammonia having been exposed to a "sudden release" of gas was ruled "accidental".
Northamptonshire's assistant coroner sent a letter to Carlsberg, which said it had "addressed those concerns".
Assistant coroner Philip Barlow said: "During the course of the inquest the evidence revealed matters giving rise to concern. In my opinion there is a risk that future deaths will occur unless action is taken."
The Health and Safety Executive is currently investigating Mr Chandler's death.
An inquest heard Mr Chandler was employed by Speedrite NE, which was subcontracted to remove a dormant compressor unit that had not been used since previous work in 2014 and was separated from a high pressure ammonia system.
During the removal, a high pressure escape of gaseous ammonia occurred and, while Mr Chandler's three co-workers managed to escape, the father-of-two died at the scene.
In a report aimed at preventing future deaths, Mr Barlow said: "Relying on the isolation from previous work on the compressor appears to have caused confusion as to the safe level of isolation necessary for work of a different nature two years later."
He stated that there "does not appear to have been any formal review of the appropriate isolation standard for the work in November 2016 to be performed safely".
Mr Barlow also said Carlsberg and another subcontractor were "each relying on the other to ensure that the compressor was safely isolated", and that the permit to work was incorrectly completed.
You may also be interested in:
A spokesman for Carlsberg UK said it responded within the deadline set by the coroner.
He added: "We have considered at length the concerns of the coroner contained within his report and have addressed those concerns fully in our response.
"In the circumstances it is not appropriate for us to comment further on this issue, particularly in the light of the ongoing legal processes."