UK footwear firms 'need more shoemakers' as exports grow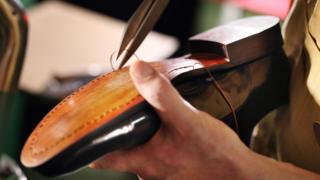 A search has begun for a new generation of shoemakers, in the county known as the heart of the UK shoe industry.
The British Footwear Association, based in Northamptonshire, has set up an apprenticeship scheme to try to tempt people to the profession.
It said more staff were needed for the "highly respected and skilled trade" to cope with rising exports and promised "very rewarding careers".
The UK makes six million pairs of shoes each year - almost half are exported.
The association's training manager Jayne West said: "If you go to LA, Tokyo or Milan, you will see Northampton shoes on the high street.
"We're known for globally for fine construction with fabulous materials.
"There are 200 to 300 processes involved in making a fine pair of shoes. Apprentices will learn the basic processes and it will make them very employable going forward."
Firms across the country have signed up to offer apprenticeships, including some of the 22 shoemakers in Northamptonshire.
The industry currently employs about 4,000 people in the UK and the association, based in Wellingborough, says the apprenticeship scheme is necessary as firms look to manufacture more footwear in the UK.
Northamptonshire was once the shoemaking capital of the world but many manufacturing processes moved abroad from the mid-20th Century due to lower costs.
However, remaining firms have seen their fortunes flourish in recent years, selling luxury handmade shoes around the world.
The 2005 film Kinky Boots was inspired by a true story about a struggling shoe factory in Northampton, which was saved by collapse when it began producing erotic footwear.
It was later turned into a musical, which is into its fourth year in the West End and will begin a UK tour in Northampton on Wednesday.