New Northamptonshire Police puppy in memory of fatally shot dog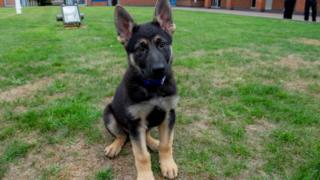 A Facebook group of retired and current police officers have clubbed together to pay for a new police puppy in memory of a dog shot and killed on duty.
PD Bryn died in February 1998 at a domestic incident in Irthlingborough, Northamptonshire, that his handler Ian Churms and a woman were also shot in.
Retired PC Churms has now handed over a young German Shepherd, paid for by the social media group, to its new handler.
He said handing over PD Bryn's 10-week-old namesake was "tinged with sadness".
PD Bryn was killed on Thursday, 5 February 1998, when he and his handler attended an address at shortly before midnight, where a man threatened them with a hunting rifle.
The handler advised another officer not to enter, telling them it would be better for him and the dog to enter.
But despite trying to negotiate, he was shot in the leg and PD Bryn was killed. The offender was later arrested.
PC Clarke, who is training the new Bryn, said the dog was "extremely energetic for a couple of hours, then sleeps for a couple of hours".
Mr Churms, said: "It's a day tinged with sadness to me. I was extremely close to my partner but the puppy helps me to overcome that sadness."