Corby Urgent Care Centre: New service contractor sought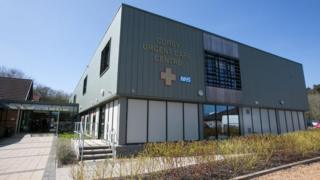 A medical centre is to remain open to walk-in patients after plans to turn it into an appointment-only service were put on hold.
A contractor is now being sought to run Corby's Urgent Care Centre for the next three years to ensure continuity.
A High Court judge had ruled a full public consultation about the proposed changes was required.
Corby Clinical Commissioning Group (CCG), which pays for the service, had argued the process was not necessary.
Maria Bryan, from the Save Corby Urgent Care Action Group, welcomed the news, which she said "came out of the blue".
"The CCG had stopped talking to us but it will bring great peace of mind as we know Kettering General is very busy and we need a local centre for urgent treatment," she said.
The centre opened in 2012 and treats about 75,000 patients annually, providing a walk-in GP service and minor injuries unit.
At the High Court hearing in Cardiff, Judge Milwyn Jarman QC said: "It was not only the quality of service which made the centre popular, but ease of access and any change to it had the potential to be seen as a loss to Corby."
Dr Joanne Watt, from Corby CCG, said: "We have always said that our plans for a same-day access hub meant no significant change in service, and the judge agreed with that.
"However, it is our priority to ensure no disruption in local health services. This is the best way of ensuring continuity of service."
Organisations are invited to bid for one or both of two services - assessment and care of ill and injured patients, and specialist support for general practice.