Bridge suicide prevention campaigners win notes rethink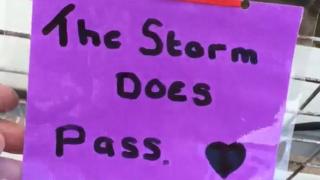 "Notes of hope" designed to discourage suicides are to be installed on bridges over major roads in the East Midlands.
Charlotte Palmer, from Northamptonshire, put up homemade posters urging people thinking of ending their life to seek help.
However, they were branded a distraction to drivers and removed.
But following a campaign to bring them back, Highways England said it was working with Ms Palmer and experts on new signs.
Ms Palmer decided to produce the colourful notes with messages such as "the storm does pass" and "you're not a waste of space" after her friend suffered severe mental health problems.
'Over the moon'
A Highways England spokesman said: "We know that suicide and attempted suicide on our roads is an issue, and we're working with the police, Network Rail and charitable organisations to play our role in helping to prevent such incidents from occurring."
Adrian Oulds, head of service delivery in the East Midlands, said: "We've produced signs that can be attached to bridges to try and prevent potential suicide attempts and I'm looking at installing these on structures."
Ms Palmer said she was "absolutely over the moon" with the commitment.
"I set out in the hope that I could help someone in need at our local bridge and it's well worth all that hard work and campaigning from the community," she said.
"If the signs only save one life, it's worth it, and even just to raise awareness of suicide prevention."
If you are struggling to cope, you can call Samaritans free on 116 123 (UK and Ireland) or visit the BBC Action Line website.