Work on Northampton Museum's £6.7m makeover to start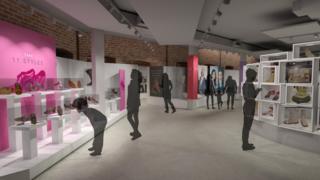 Work is to begin on the £6.7m refurbishment of a museum, which is being funded by the controversial sale of a 4,000-year-old Egyptian statue.
Work on Northampton's museum and art gallery will start later this month, after a two year delay.
The project is being paid for by the sale of the Northampton Borough Council-owned Egyptian Sekhemka statue, which was sold for £16m in 2014.
It is hoped work will be completed by spring 2020.
The council has appointed contractor Wildgoose Construction Limited for the expansion, which will include new galleries, a cafe and educational spaces.
There will also be a new shoe gallery, highlighting Northampton's links with the industry and featuring items including Prince Albert's boots and Queen Victoria's wedding shoes.
The first part of the work will involve demolishing a bridge which connects one building in Guildhall Road with the Old Gaol Block.
Council leader Jonathan Nunn said the project was delayed for two years after asbestos was discovered.
"We started again with new surveys, (we) now know where the concrete is good and bad and where there is asbestos, and we now have a cost which is absolutely fixed and certain," he said.
The sale of the Sekhemka statue attracted criticism, and even a change in the code of ethics issued to museums. The council made about £8m from the sale.