Northamptonshire County Council 'ignored 2015 crisis warning'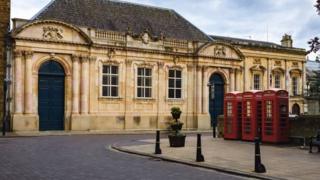 Northamptonshire County Council leaders ignored warnings about a financial crisis three years ago, government inspectors have said.
A letter from 2015 showed that the authority had overspent by £43m just seven months into the financial year.
But government inspectors said it was not taken seriously until 28 months later, when a section 114 notice banning any new spending was issued.
Council leader Matt Golby said he was determined to confront the issues.
Then director of finance Matt Bowmer wrote to chief executive Dr Paul Blantern, council leader Jim Harker and cabinet member for finance Bill Parker on 29 October 2015, notifying them of his intention to issue a section 114 notice.
"We are experiencing a significant financial crisis but there is avoidance of the term and a lack of action appropriate for the situation we find ourselves in," Mr Bowmer, who left the council in 2016, wrote.
"At the heart of this is the corrosion of our financial management arrangements over the past 18 months; there has been a change of culture and behaviour where overspending is acceptable and there are no sanctions for failure."
Mr Bowmer also warned that the impending crisis could place the council "at great risk in the future".
A report by government inspector Max Caller said the letter was not treated as the "wake-up call" it should have been, the Local Democracy Reporting Service reported.
The inspectors believe if the warning had been heeded, the council would not have to find £70m of savings this year.
Speaking about the decision not to issue the section 114 notice in October 2015, government-appointed commissioner Tony McArdle said: "It is abundantly clear that the warning signs for Northamptonshire were there and were recognised.
"However, what is also clear is that there was no effective response to these warnings and that is clearly a key reason that the council finds itself in its current position."
Mr Golby added: "This letter clearly outlines the challenges the council was facing at that time. Those very same issues have since gone on to become contributing factors to the current financial crisis we are dealing with.
"With new senior management and political leadership in place it is now our determination to directly confront these issues and return the council to living within its means."
The authority has issued two section 114 notices in the last six months. Prior to this, there had only ever been two issued in the UK since 1988.