River Great Ouse foam pollution poses 'no ongoing risk'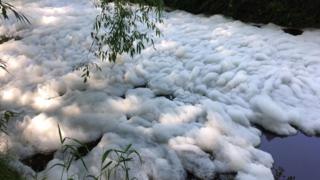 Experts say there is no "ongoing risk" to the public from foam pollution that killed more than 2,000 fish.
The River Great Ouse in Brackley, Northamptonshire, resembled a bubble bath when an "unidentified substance" came into the water on 29 June.
However, the Environment Agency said precautionary advice for "people, pets and livestock" to stay out of the river had now been lifted.
The foam spread as far as Buckingham. An investigation is continuing.
One resident said the pollution looked like a washing machine had "exploded".
After Buckingham, the 140 mile (230km) long river flows through Milton Keynes, Bedford, St Neots, Huntingdon, St Ives, Ely and The Fens before entering The Wash at King's Lynn.
In a statement, the Environment Agency said: "Now that the pollution has dispersed, we will consider what steps we can take to support the river's ecological recovery."
They also asked people taking part in activities in and around the river to be "mindful", and to report any signs of pollution.