Ex-Northampton Town FC chairman 'dishonest' over council loan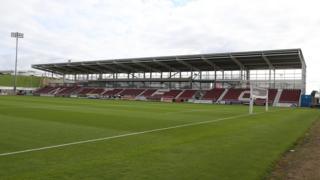 A former Northampton Town Football Club chairman has been accused of dishonesty while negotiating a £10m loan.
The money, borrowed from Northampton Borough Council, was intended to be used to rebuild Sixfields stadium.
David Cardoza told the High Court that overstating the club's outgoings to the council to try to get better loan terms was "just business".
The authority is suing Mr Cardoza, his wife and his father, to try to recover part of the money it loaned.
James Morgan QC, acting for the council, accused him of "tweaking" and "manipulating" figures in a business plan.
"It's what happens in business," Mr Cardoza responded.
The hearing in Birmingham was told he met developer Howard Grossman in Bordeaux to plan the stadium redevelopment and they also agreed that £700,000 would be allocated towards rebuilding Mr Cardoza's house.
Mr Morgan said this part of the deal was left out of their written agreement "to hide the fact," which Mr Cardoza denied, insisting he paid for the work himself.
When questioned about the multimillion-pound deal with Mr Grossman's company 1st Land Ltd, Mr Cardoza admitted he signed the contract without reading it.
He said that Mr Grossman had arrived at Sixfields and "thrust it into my hand," describing his own actions on this occasion as "naïve".
'Grateful people'
Previously the court heard his father Anthony Cardoza received payments totalling about £2m from 1st Land and one from another company in receipt of the loan money, County Oundle Ltd.
Asked why he did not tell his fellow directors about the payments, David Cardoza explained how his father had put a lot of his money into the club and would have been "delighted" he was getting some back.
"There are a lot of people in Northampton who are very grateful to us," he added.
The council brought the proceedings to recover the £2m sum and is seeking a further £1m in damages and compensation.
The 10-day hearing continues.