Northampton finance chief 'took free Spurs tickets'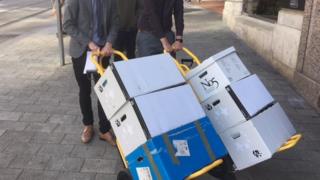 A council finance chief accepted free Tottenham Hotspur football tickets from a man at the centre of a £10.25m loan scandal, the High Court has heard.
Northampton Borough Council is taking legal action to recover part of the money which it loaned to Northampton Town FC.
Former council chief financial officer Glenn Hammons told the court he had not declared the tickets, a gift from businessman Howard Grossman.
He said he had been unsure who to tell.
The case centres on money loaned by the council to Northampton Town, nicknamed The Cobblers, for the redevelopment of its Sixfields stadium.
The authority is suing former Cobblers chairman David Cardoza, his father Anthony and his wife Christina.
The council also wants the decision to transfer a property jointly owned by David and Christina Cardoza to the sole name of the latter to be constituted as defrauding creditors.
Anthony Cardoza admits he received more than £2m of the loan money but says this was to repay what he termed a "director's loan" to the club, which he and his son then owned.
This is disputed by the council, which brought the proceedings to recover this sum and is seeking a further £1m in damages and compensation.
Called as a witness at the hearing in Birmingham, Mr Hammons said he had accepted the Spurs tickets, plus a meal, at the time he was overseeing the loan payments in autumn 2013.
They had been provided by Mr Grossman, into whose company, 1st Land Ltd, the bulk of the loan money disappeared.
'Quite flamboyant'
The company had been set up to redevelop the stadium, but went into administration when it ran out of money and contractors were not paid.
Mr Hammons told the court he had been working for both county and borough councils when he received the tickets and "didn't know who I should make the declaration to".
He also confirmed he had been interviewed under caution by detectives from Operation Tuckhill, the police investigation into the missing money, twice in July 2017 and twice last month.
Asked if he had been shocked by that, he said: "It was something I was expecting."
He told the court he had met Mr Grossman and his son Marcus "roughly a dozen times" during loan negotiations in 2013/14, describing them as "quite flamboyant".
The case is expected to last into next week.