Northampton's County Hall sale can proceed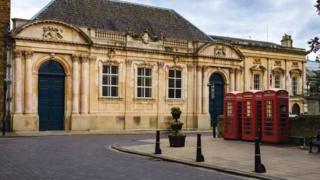 The sale of a financially strained council's former Grade II-listed home can go ahead, councillors have decided.
Northampton's County Hall still contains a number of offices for Northamptonshire County Council (NCC).
Cabinet had approved putting the building up for sale on 11 June, but eight opposition councillors called-in the decision and it was reconsidered.
A scrutiny panel concluded "due process" was followed and it would not need to be referred back to cabinet.
The government proposed dissolving the Conservative-run county council after it ran out of money.
As well as paying back £12m into reserves, NCC needs to make £35m annual savings and it had been suggested that selling the 18th Century building in George Row would save £380,000 a year.
'No apology'
The BBC has asked for an estimate of money it hopes to raise from the sale, but the council has yet to respond.
Liberal Democrat councillor Chris Stanbra told the scrutiny committee the decision was not proportional for the amount it would raise, there was no consultation on the sale and that realistic alternatives had not been evaluated.
Michael Clarke, cabinet member for finance, said: "If the process was flawed then there would be a case for this committee to cast doubt, but everything was followed to the book.
"This council is in financial trouble, and the policy of asset sales has been continued by this cabinet and we make no apology for that."
However, the committee recommended that before the building is sold, consideration is given to the importance of continued public access and its use for purposes such as council meetings.
County Hall is also currently used as the coroner's court and tourist information office.
NCC sold its new One Angel Square HQ in April, choosing to rent it back so it could help balance the books, but it was built without a council chamber.