Northampton's litter problem is a 'serious health risk'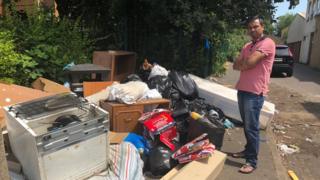 A town's "embarrassing" litter problem poses a "serious risk to health," a councillor has said.
A new company took over environmental services in Northampton a month ago, tasked with clearing a waste backlog.
The local Labour group said rubbish was "still piling up" in "large areas" and is made worse by the hot weather.
Tory-run Northampton Borough Council said it continued to work with the new contractor to ensure the service is "at the level we all expect".
Labour councillor Enam Haque, shadow portfolio holder for the environment, said: "I am truly appalled at the lack of progress in a dire situation which, if anything, has got worse.
"With the hot weather, the smell from some of the bags is repulsive and it must be a serious risk to health."
'We need evidence'
Councillor Mike Hallam, Conservative cabinet member for environment, said: "We must remember that everyone has a responsibility to keep our streets clean and it is not acceptable to dump furniture, put rubbish out ahead of collection days or drop litter.
"We do our best to enforce and clear up fly-tipping promptly, but we do need evidence, so would ask everyone to provide us with any information that might help."
On 4 June, Veolia took charge of the environmental services contract and will look after recycling, waste collections, street cleaning and grass cutting for 10 years.
In the weeks before, people in Northampton complained on Twitter about full dog waste bins, rubbish-strewn parks and grass verges going uncut for months.
At the time, Mr Hallam said the problem was "an embarrassment" and the town was let down by the previous supplier, Amey.
A spokesman for Amey said: "We worked hard to provide a high quality service for Northampton throughout the duration of the contract."