World Cup: Club refuses to move fixture despite England clash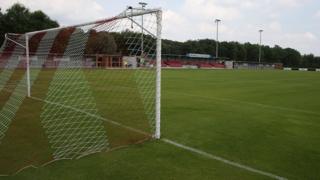 England's World Cup progress has given two football clubs an unwanted clash as they begin their pre-season fixtures.
The 1966 winners' last-16 match against Colombia kicks off at 19:00 BST on 3 July, with Sileby Rangers' home game against Northampton Town at 19:45.
United Counties League Sileby says it can't move the fixture as it shares facilities with a local bowls club.
On Twitter, the club joked: "We've asked the FIFA to change the world cup game but we haven't heard back."
The non-league club, which plays at Fernie Fields Sports Club, Northampton, added it would "do anything" to move the game but "unfortunately there is no other date available".
Responding to a tweet by League Two Northampton, fans voiced dismay at being forced to choose between watching the local teams or supporting the national side.
One said: "Sileby are going to lose so much money by not moving it. Silly decision."
Another said: "I'm sure many of the Northampton Town and Sileby Rangers players would appreciate being able to watch the England game as well."
Instead, the game between England and Colombia in Moscow will be shown in a clubhouse at the stadium while the pre-season friendly match takes place.
Sileby have hosted Northampton - nicknamed the Cobblers - in each of the last six pre-season campaigns, with more than 1,000 supporters watching Northampton win last year's fixture 8-2.
The Cobblers, managed by former Tottenham and Crystal Palace defender Dean Austin, were relegated from League One at the end of the 2017-18 season.