Carlsberg brewery inquest: Victim 'rapidly unconscious'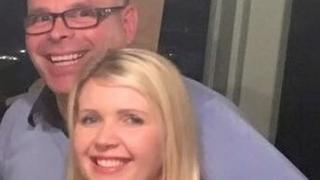 An engineer killed by an ammonia leak at a brewery would have become "rapidly unconscious", an inquest heard.
David Chandler, from Bridgnorth, Shropshire, died at the Carlsberg plant in Northampton on 9 November 2016.
Coroner Philip Barlow said a post-mortem examination report concluded Mr Chandler died from "inhalation of ammonia".
The report said the 45-year-old would have quickly passed out and gone into "respiratory arrest".
Mr Barlow said Professor Guy Rutty, from the University of Leicester, said ammonia levels would have been "up to 10,000 parts per million" within seconds of the leak.
The coroner previously said the question for the jury at Northamptonshire Coroner's Court was how ammonia came to be discharged and how it could have been prevented.
Earlier in the hearing, chemical engineer Sarah Schumacher said guidelines should have led the company to have the "highest possible standard" of isolation on a compressor unit when toxic substances like ammonia were involved.
Jamie Davies, from the Health and Safety Executive, said he found an isolation valve in the pipework to the compressor had not been closed the time of the leak.
He added that a seal around a second valve had given way.
Mr Davies said the technique used to isolate ammonia in the compressor, known as "single block and bleed," was "slightly up from doing nothing".
He added that what resulted was "definitely a hazardous situation".
The inquest is sitting at Northampton's County Hall and has taken place over seven days. It is set to resume on Monday 2 July.