Carlsberg brewery fatal gas blast: Work permits 'deficient'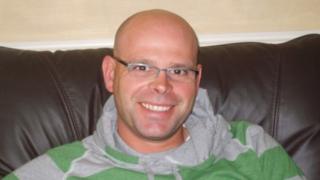 A brewery where a man died when ammonia gas exploded from pipework had not properly completed risk assessments, an inquest heard.
David Chandler, 45, from Shropshire, died "almost instantly" at the Carlsberg plant in Northampton.
Barrister John Cooper, representing Crowley Carbon, one of the firms working at the brewery, said work permits issued were "deficient".
He said no-one should have worked there "without a proper permit".
Energy efficiency experts Crowley Carbon had been contracted by Carlsberg to oversee the removal of a compressor unit, from where the ammonia gas exploded, on 9 November 2016.
It was one of four firms involved at different stages of the project, with each one producing risk assessments for its part in the work, the inquest jury at Northamptonshire Coroner's Court heard.
These assessments were then analysed and signed-off with Carlsberg issuing work permits to contractors.
Firms working at Carlsberg
Although the ammonia leak happened at the Carlsberg brewery, the work being carried out to remove the compressor was handled by four firms:
Crawley Carbon: Energy efficiency firm won the contract and oversaw the project. Their engineers were responsible for checking the ammonia was safely isolated
Empire Process Engineering: Sub-contractors working for Crowley, Empire employed two private contractors to do the "nuts and bolts" of the operation and disconnect the compressor
Speedrite International and Speedrite (NE): These two firms, described as "sister companies" at the inquest, were responsible for the "lift and shift" operation of removing the compressor. David Chandler worked for Speedrite (NE)
At the hearing Roger Pearce, a senior Carlsberg engineer, agreed with Mr Cooper one risk assessment was "clearly inadequate" as it did not mention "hazards relating to spills or emissions" including that of ammonia.
Mr Pearce confirmed "minor work" had taken place on the compressor in 2014 without incident, but he admitted a risk assessment had not been carried out for it.
The inquest heard how the 2014 work permit was used to authorise Crowley Carbon to work on the site in 2016, including allowing its engineers to check for ammonia in the system, but a new one should have been issued.
Sara Hatch, an external health and safety consultant employed by Carlsberg, told the hearing a risk assessment she had carried out relating to the 2016 work was not actually signed off by Carlsberg's project manager, Ian Swann.
The inquest also heard how that same form had not referenced any risk of ammonia.
Earlier in proceedings, workers had said they "wouldn't have been working" at the site if they had known ammonia was present.
The inquest continues.