Public safety fears sparked Northamptonshire fire service move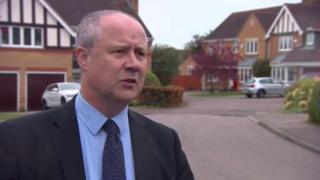 Public safety could have been at risk had a fire service not moved from a council's control to the police and crime commissioner, a report says.
This autumn Stephen Mold will take over Northamptonshire's fire service.
The National Fire Chiefs Council, which looked at the feasibility of the move for the Home Office, said the service had "considerable" financial worries.
The county council said communities were "safe" and "efficiencies" had not stopped it recruiting staff.
Roy Wilsher's report - commissioned after the authority banned spending earlier this year - was published in March, but only came to light following a Freedom of Information request by the BBC.
The government agreed to transfer control of the fire service to Conservative police commissioner Stephen Mold in April, with Northamptonshire County Council due to be scrapped.
The National Fire Chiefs Council report described the current fire service as "very lean", with a "hard-working senior management team".
It said the "lean operational resource" of the service was evident last September when it took crews 22 minutes to reach a house fire in Towcester due to stretched resources.
Summarising, Mr Wilsher said: "Northamptonshire Fire and Rescue Service is under considerable stress financially and operationally" and "has little resilience", meaning a change in direction for finances was "urgently needed".
"There is no immediate concern for public safety, but it is not clear how much longer this will remain to be the case - especially with further year-on-year reductions on the horizon by NCC [Northamptonshire County Council]," he said.
In response, the county council said the number of fires the service attended had fallen significantly in 10 years, despite population growth, due to "community and prevention work".
"Therefore, it is only right that efficiencies have been made within the fire service," a statement said.
Speaking to the BBC, Mr Mold admitted his office did not "start from a great place" financially, but said buildings between police and fire crews would be consolidated to free-up running costs.