Video of 'kind' lorry overtaking cyclist, four, goes viral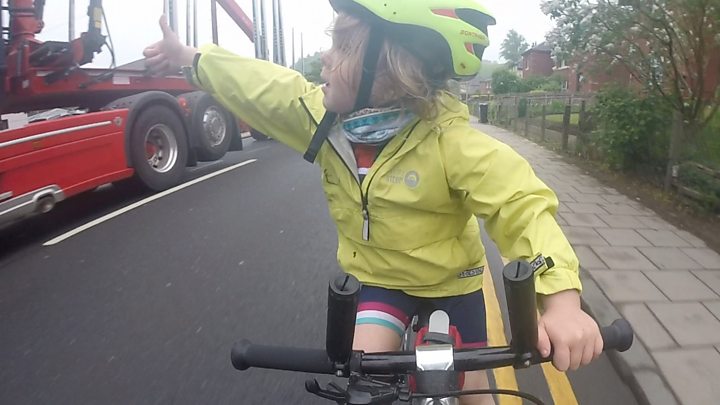 A video of a "really kind" lorry driver overtaking a four-year-old girl on a bicycle has been viewed about 700,000 times after the family published it.
Rhoda Jones was riding on a trailer bike with her father Tom in Scotland.
The lorry took an extremely wide berth around the cyclists as Rhoda gave him a "thumbs up" and shouted "thank you".
Mr Jones, from Wellingborough, said he could have posted lots of "angry cyclist" videos of poor overtaking but this was "textbook of how to do it".
The Northamptonshire family have travelled all over the country on bicycles with their three children Thomas Ivor, nine, Ruth, five, and Rhoda - who turned four in April.
Mr Jones and his wife Katie were in Jedburgh in the Scottish Borders for half-term with Ruth and Rhoda on trailer bikes - where the child's half-bike is connected behind the adult's bicycle - when Mr Jones turned on his dashcam after experiencing "some appalling and aggressive passes".
However, one lorry driver proved the exception and crossed to the opposite carriageway, giving the bikes a "very wide berth".
Rhoda gave the lorry driver a big "thumbs up" and shouted her thanks.
"I told her, 'that lorry driver has been really kind, make sure you say thank you'," Mr Jones said.
"Rhoda has a thing about people passing, and she can equally give a Paddington Bear-type angry stare which would be enough to take some drivers off the road."
Mr Jones posted the video on their Twitter feed on Sunday night, saying: "So often we see or share videos of awful driving around cyclists, so this textbook pass from an exceptionally patient and careful HGV driver for D&W Agri coming into Jedburgh deserves sharing..."
Hundreds of thousands viewed it, and it has been retweeted by a number of police forces including Police Scotland and the West Midlands as an example of good road practice.
The family has thanked the haulage company and Mr Jones said the driver was "over the moon" to have been in the film.