'Weaknesses' in council's £3m Silverstone exhibition loan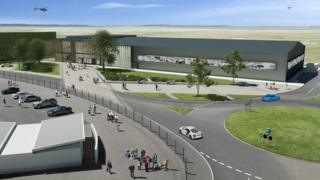 A council backed a £3m loan to a heritage exhibition at Silverstone motor racing track without assessing if it could be repaid, an auditor said.
South Northamptonshire Council agreed to help fund the Silverstone Heritage Experience (SHE) in 2016.
Auditors identified "weaknesses" in the council's due diligence - a process meant to ensure decisions are sound.
A council spokesman said the authority was "satisfied" it had robust risk management arrangements.
The exhibition, which is due to open in spring 2019, will look at the history of racing at the Formula 1 track.
In October 2016, the council approved a loan facility of £3m to the exhibition to add to a £9.1m grant from the Heritage Lottery Fund.
'No formal sign-off'
The loan agreement was signed in May 2017, and prior to 31 March this year the council had issued loans totalling £560,000.
The council's audit committee heard the external accountants Ernst & Young LLP said there had been "no assessment of SHE's ability to repay the loan, or of the risk of the loan not being repaid".
It added there was "no evidence of formal sign-off" on the checks carried out before the loan was approved by council officers.
It was also "unclear what tax advice the council obtained and considered".
A council spokesman said: "Ernst & Young did not make an assessment that due diligence was weak, but rather that at the time of auditing, that they had not had sight of some of the due diligence supporting paperwork.
"The loan is regularly reviewed in terms of security of repayments etc., and we are satisfied we have robust financial risk management arrangements in place.
"We do not currently consider the repayment of this loan as high risk although we will continue to monitor this loan facility closely, as we do with all such financial transactions."