Father Brown writer GK Chesterton 'could be ideal saint'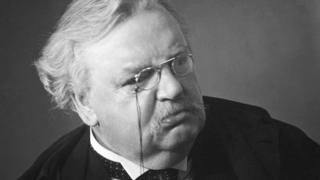 Father Brown author GK Chesterton's tolerant attitude and "clarity of vision" would make him a great saint for today's "polarised" times, says the canon looking into the proposal.
The Bishop of Northampton, Peter Doyle, appointed Canon John Udris to look into Chesterton's credentials in 2013.
Canon Udris said he would be handing in his report in July.
Pope Francis has previously supported a conference on the author in Buenos Aires.
The investigation is the first official step towards the possible canonization of the writer, who lived in Beaconsfield, Buckinghamshire, and died in 1936.
The writer, whose novels include The Napoleon of Notting Hill and The Man Who Was Thursday, converted to Catholicism in the 1920s.
His writings have been credited with persuading many people - including fellow author CS Lewis - to convert to Christianity.
Canon Udris, who is a staff member at St Mary's seminary college in Oscott in Birmingham, said: "I am coming to the end of the investigation and will be handing it to the bishop. It will be his call as to whether to open the cause [the start of a formal church investigation].
"Before making the decision he will need to consult with the Bishops Conference and the Congregation of Rome [organisations within the Roman Catholic church]."
---
The road to becoming a saint
•The process of becoming a saint begins with an investigation by a priest
•If the report by the priest backs the case there could then be a full inquiry where his life and works would be examined in detail
•If the inquiry backs the case, he could then get "venerable" status
•Then if a miracle is attributed to him and backed by a panel of doctors, then he could get "blessed" status and after a second miracle he could be made a saint
---
Canon Udris said: "It has been interesting to hear how well he is regarded and there is a lot of admiration and devotion from people in the US, Canada and South America.
"It would be timely for him to be made a saint because of his clarity of vision, and also his very particular respect for those who do not share his views.
"For example his enemies in thought, such as writers HG Wells and George Bernard Shaw, he would be very close to in terms of friendship.
"In these polarised political times, he was a great example of a Christian with a deep respect for his opponents."