Northampton teacher escapes ban over 'moron' jibe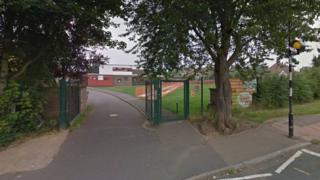 A teacher who described a pupil as an "absolute moron" has been found guilty of unacceptable professional conduct, but escaped a ban.
The disciplinary case against Raphael Brown centred around two pupils while he was at Wootton Primary School, Northampton.
The incidents of "belittling and humiliating" children took place in June 2016.
Mr Brown told the hearing he was trying to inject some humour into lessons.
He taught at the school from September 2013 until February 2017.
The incidents came to light in 2016 after Mr Brown was suspended by the school over an allegation of serious assault, unrelated to the school, for which he was never charged.
'Relatively inexperienced'
He told the Teaching Regulation Agency's panel that if he used the word "moron" in class, it was most likely "he did so in describing the pupil's behaviour, rather than the pupil himself".
He said he used terms such as "moron" and "minion" to inject humour into a class.
Further breaches of professional standards were proven after pupils were found to have had to use a board to record the length of time it took to visit the toilet, and they had to make up that time during breaks.
He also asked the class to put up their hands if they agreed a pupil was annoying.
In its report the panel said Mr Brown was a "relatively inexperienced teacher" and a decision was made on behalf of the Secretary of State for Education not to ban him from teaching.
"Despite its findings in relation to the inappropriateness of the toilet policy, Mr Brown reflected on and discontinued this practice," the report said.
"The insight shown means there is little risk of the repetition of this behaviour."
In his support, his new school described him as "an invaluable member of our school community [who] builds excellent relationships with the children".