Kettering Hospital: Eye drug error consultant suspended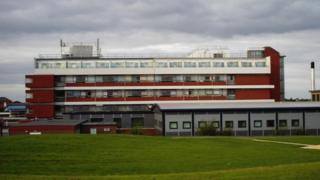 A hospital consultant is to be suspended from the medical register for nine months for injecting a patient's eye with the wrong form of a drug.
Mr Pammal Ashwin admitted using an undiluted form of the drug Ocriplasmin, which should have been diluted, to treat a patient's eye condition at Kettering General Hospital in May 2014.
A tribunal was told that the patient later suffered a retinal detachment.
It ordered that Mr Ashwin be suspended and his case then reviewed.
'Retina detached'
The Medical Practitioners and Tribunal Service hearing was told that the retinal detachment - when the thin layer at the back of your eye becomes loose - may have been caused by the use of the undiluted drug.
The tribunal found that Mr Ashwin had failed to tell the patient he was using the undiluted dose and did not tell the hospital when it investigated the case.
Mr Ashwin had no issues with his work before or since the event in 2014, it was told.